Don't expect Jennifer Aniston's wedding to Justin Theroux to be a big deal.

The actress' wedding planner Kevin Lee - who also organised her extravagant nuptials to Brad Pitt - has revealed that Jen and Justin's big day will be a quiet one.

Kevin told Grazia magazine: "They won't be blowing millions on an over-the-top wedding with hundreds of people there they barely know.
​"Brad wanted that when she married him, and she got caught up with having a huge day. It was ultimately so stressful; that she couldn't really take time to enjoy it. So it's going to be small and low-key so they feel relaxed."​
Jen and Brad wed on a Malibu estate in 2000 in front of 220 guests in a lavish sunset ceremony that was said to have cost around $1million.
​
The star-studded guest-list included Jen's Friends co-stars, Cameron Diaz, Ed Norton and Selma Hayek.

Despite $75,000 worth of flowers and $20,000 of fireworks, the couple divorced in 2005.

​Now planning her second wedding to her Wanderlust co-star Justin Theroux, 41, Jen is said to be keen to get hitched with less fuss.

Kevin continued: "She's so in love, she's found her soulmate and that's all that matters.
​
"It's about celebrating and spending time with their closest friends and family. There will be a meaningful ceremony, with heartfelt, loving vows and a wonderful meal.
"Jen's pure class and style, so expects lots of sweet, romantic touches."
It seems Jen, 44, has very different feelings to Brad on the matter though, as he's currently planning his wedding to Angelina Jolie.
​Brad, 49, and 37-year-old Ange want to wed on their huge French Chateau Miraval estate and there's even been rumours of jumping ponies and elephants to fulfill their six kids' wishes.
​The pair are said to be planning their big day for May, when many of their friends will already be in France for the Cannes Film Festival.
​Kevin insists Jen and Justin, who got engaged in August last year, haven't yet set a wedding date - but their friends have been told to await an imminent call.
​Can we get an invite?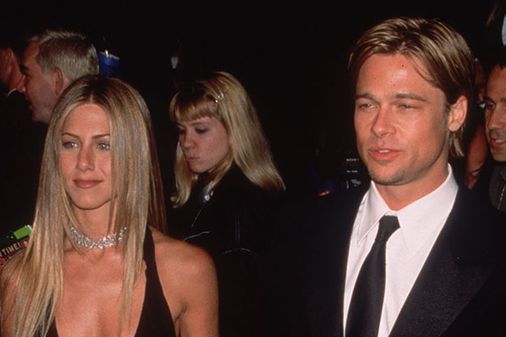 © Getty
Jennifer Aniston and Brad Pitt