Jennifer Lawrence has sparked rumours she's back together with ex-boyfriend Nicholas Hoult.

The Silver Linings Playbook star appears to be giving her relationship with the British actor another go after they were seen leaving a Hollywood restaurant together on Monday night.

The pair's romantic dinner date comes months after they reportedly ended their two-year relationship because they "grew apart".

Jen and Nicholas left The Little Door eatery via the back door, but were snapped as they made their way into Jen's waiting car.

The ex-couple tried to make a low-key exit as they kept their heads down, with Jen in a dark outfit and carrying a book.

Nicholas was dressed down in jeans and a khaki jacket as he followed Jen's lead out of the restaurant.

Jen and Nicholas could of course just be attempting to re-ignite their friendship and avoid any awkwardness, as they're currently working together on X Men prequel Days Of Future Past.
The former couple first met on the set of the first prequel - First Class - and quickly fell in love.

Jen, 22, gushed to Elle magazine last year: "My boyfriend is honestly my best friend, and hopefully I'm his best friend too.

"He's my favourite person to be around and he makes me laugh harder than anybody."

And former Skins star Nicholas said about his long-term relationship with the Oscar-winner: "Romance is something that you can get caught up in very easily because it feels very exciting and new every time.

"But once you're settled in it, and you really have grown to know a person, then there's a sense of safety and settlement, which I like very much."

Despite their break-up in January, Nicholas congratulated his ex on her Oscar win for Silver Linings Playbook and insisted he was "thrilled" for her.

But when asked about the upcoming filming for Days Of Future Past, the 23-year-old was coy about Jen's presence on set.

He said: "It'll be great to be back with everyone... A particularly exciting thing for me on that one is having Hugh Jackman [as Wolverine] and those guys back, because those are the guys I grew up watching in X-Men films."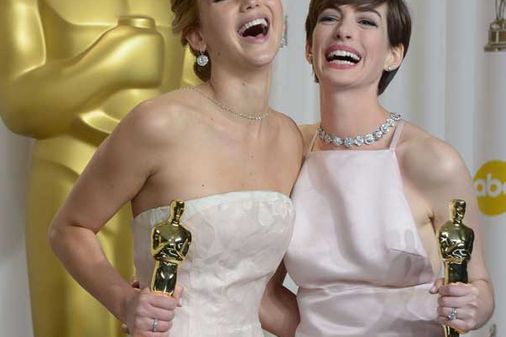 © Getty
Jennifer Lawrence and Anne Hathaway