Kate Middleton has confirmed her attendance at a June ceremony to christen a new ship ahead of the arrival of her royal baby.

Having already announced her plans to go on maternity leave in June, it appears this will be one of her last public outings before the birth.

A heavily pregnant Kate, 31, will be named godmother of Princess Cruises' new ship, Royal Princess, and will attend the naming ceremony in Southampton on 13th June.

The Duchess of Cambridge will celebrate the occasion with the tradition of breaking a bottle of champagne over the hull.

Kate's presence in Southampton is bound to cause quite a stir with the public, who will no doubt be eager to catch a glimpse of the pregnant Duchess and her unborn child.

Alan Buckelew, the line's president and chief executive, told Hello Magazine: "It's a great honour for Princess Cruises that Her Royal Highness The Duchess of Cambridge has accepted our invitation to become the godmother to Royal Princess.

"We are delighted that the Duchess will launch our new ship and can think of no better way to celebrate our company's British heritage and our commitment to the country."

Last week Kate revealed more details about when she and Prince William, 30, are expecting their first child together.

She said during her visit to a homeless shelter in Glasgow: "It's around mid-July but apparently babies have their own agenda."

She also spoke about their struggle to pick a name.
She added​: "We have a shortlist for both [boys' and girls' names] but it's very difficult."

After the birth, Kate will apparently not undertake any royal tours abroad until 2014.

A royal source told the Telegraph: "The Duchess will give birth at some point in 2013 and it would be unusual for her to travel in the couple of months after that.

"No overseas tour has yet been planned for next year, and obviously the arrival of the baby will have an effect on the Duchess's diary."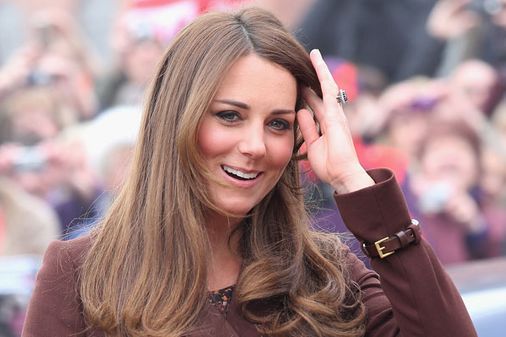 © GETTY
Kate Middleton