At Sunday night's MTV Movie Awards, Kesha revealed that she and One Direction singer Harry Styles had exchanged numbers and were messaging each another.

The 26-year-old songwriter put to rest any questions of sexting but is also happy to never say never.

She told MTV News: "We've texted here and there. No sexting - not yet."

Aware but undeterred by the age gap between her and the 19-year-old, she also suggested he become her "cougar bait".

She's also admitted she's got a soft spot for British guys.

When asked by Now magazine if she'd dated many before, she replied: "Oh yeah, very many! I'm kind of a sucker for you guys. It's the accent.
"Harry Styles is pretty cute - he looks like a young Mick Jagger."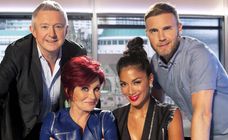 This wouldn't be the first time the ladies' man hooked up with an older woman.

His first high profile relationship was with Xtra Factor host Caroline Flack, who at 33 is 12 years his senior.

Since then Harry's been linked to a number of lucky ladies - most memorably Taylor Swift.

But the romance only lasted a few months and the country turned pop singer seemed to imply the reason for the split may have been Harry's wandering eye, as well as his wild party lifestyle.
Two weeks ago, Taylor hinted at why she and Harry had gone their separate ways.

She said: "It was a big goal of mine as a teenager never to get labelled as a train wreck or a mess... or a party girl, stumbling out of clubs with random people I don't know.

"I think, in an effort not to go off the rails, I behaved myself."​
We reckon Kesha could give him a run for his money when it comes to outlandish behaviour!

Harry had tongues wagging recently after he was alleged to have got hot and heavy with a stripper in Newcastle after One Direction's gig in the city.

He apparently got "intimate" with 25-year-old Chelsea Ferguson at Newcastle's Perdu Club - though the singer's rep has vehemently denied the claims.

Taylor probably wouldn't approve of Hazza's potential new conquests - but she knew he was trouble!

© Getty
Harry Styles