Break-ups are never easy, but they must be particularly difficult when they're written about all over the world.

Kristen Stewart and Robert Pattinson ended their on-off romance for good last month and it seems the Twilight stars are dealing with their newly single status in very different ways.

While Kristen, 23, has struggled to accept she needs to give up on her man, Rob, 27, seems to have taken the split in good spirits.

He has even been reported to have already moved on - and coupled-up with his and Kristen's mutual friend, Katy Perry, 28.

Rob and Katy have been spotted together on a number of occasions of late - on Saturday night they spent the evening at Björk's concert at the Hollywood Palladium.

Though they arrived separately, the pair sat next to each other inside the LA venue.

They were also seen together at a wedding rehearsal in Santa Barbara, close to where Katy grew up.

A source has told MailOnline that news of Katy and Rob's closeness has left Kristen feeling "incredibly down right now and betrayed".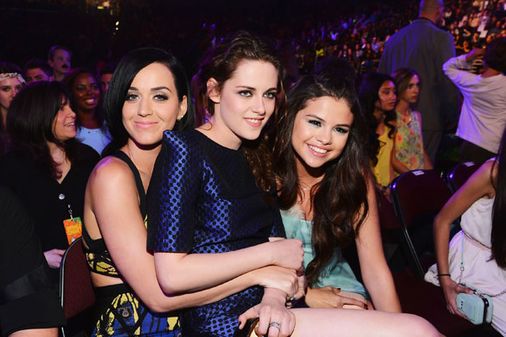 © Getty
Kristen Stewart, Katy Perry and Selena Gomez
Kristen - who met Rob when they starred in The Twilight Saga together - has now cut off all ties with Katy.

The girls had a close bond before the split - they were snapped cuddling up at the Kids' Choice Awards in March and they greeted each other with a big hug at the Met Ball in New York last month.

It's a tough time for Kristen, who is reportedly still pining over her man.

The source continued: "Kristen is in a certain state of denial. She can't let go of Rob or get over him.

"She keeps trying to contact Robert and find out what he is doing but her attempts to see Rob have been rebuffed. Rob is not responding to her."

Rob is said to be leaning on Katy for support after his split from Kristen, which came almost a year after she confessed to cheating on him with director Rupert Sanders.

Though Rob managed to forgive Kristen and the pair moved back in together, it seemed ultimately the trust was gone and the pair failed to make it work.

A source told The Sun: "Rob poured out his heart to Katy about Kristen cheating on him. She proved to be a really good shoulder to cry on.

"He stayed at her house in LA after they went away to Santa Barbara together for a few days over American Memorial Day weekend late last month."