Alex Pettyfer has been test filming for the role of Christian Grey in the movie adaption of E.L. James' hit book Fifty Shades Of Grey.

The 23-year-old has filmed a sex scene in a bid to impress producers and land the coveted role.

The scenes were directed by the acclaimed Gus Van Sant, who's also taking the opportunity to get bosses on side.

The casting options for the charismatic character have been endless, with suggestions of actors including Ryan Gosling and Chris Hemsworth floating around.

But the frontrunner may now be the young British actor, who showed us what he's made of in Magic Mike last year.

He had no problem getting his kit off for his role as Adam in the stripper movie.
But Alex may have to fight off competition from his ​Magic Mike co-star Matt Bomer, who's also a hot tip to get the sexy role.

According to The Wrap, Alex and an undisclosed actress shot a scene in which the story's lead female character Anastasia Steele loses her virginity to the enigmatic protagonist.
​
Names for the leading lady have also been passed around - the current favourite appears to be Gilmore Girls actress Alexis Bledel.

There is no guarantee that Alex's efforts will see him awarded the role of the highly-sexed hunk, but he's certainly showing willing.

If Alex was to be cast as Mr Grey, his fame would no doubt skyrocket, as the fight for the rights to the story has been big and expensive.

Universal Pictures and Focus Features won out against the majority of US production companies after reportedly spending upwards of $3million.

The trilogy of books sold more than 70 million copies and author E.L. James personally selected producers Michael De Luca and Dana Brunetti for the film adaption, who were behind the massive hit The Social Network.

Alex may not be as high profile as some of the other names in the running, but he's recently impressed Universal bosses, who cast him as the lead in the upcoming rom-com Endless Love.

Well he's certainly got the bod - but do you think he's too young to play the 28-year-old charmer?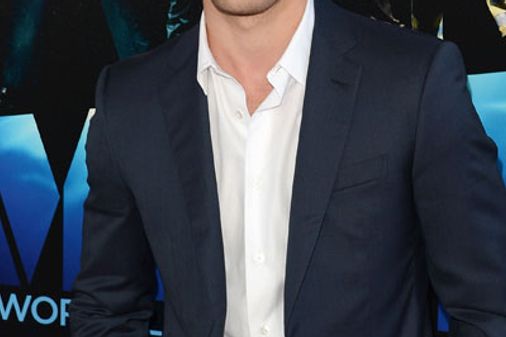 © Getty
Alex Pettyfer