Mad Men has never been an edge-of-your-seat drama and its subtle nuances - not to mention its stellar wardrobe - are what has gained its legions of devoted fans.
​So last night's slow-paced double bill can't have come as too much of a shock, even if some were hoping for more.

We met the characters again, this time in 1967, and it seems for some there have been some developments - Betty Draper, played by January Jones, has gone brunette and taken in a 15-year-old girl called Sandy.

Other characters, though, have made little progress: Don Draper, played by Jon Hamm, has a new wife to cheat on this time. Married to young actress Megan, Don can't help but get it on with his new neighbour Sylvia.

Meanwhile, Roger Sterling - actor John Slattery - has been through a divorce in the break between seasons and reacts with classic stoicism when his secretary tells him his mother's died.

Just so we all see he does have human emotions, Roger does cry when he learns his shoeshine man Giorgio has also died...and we're pretty sure it wasn't really about the shoes.

Writer Matthew Weiner made sure to keep the show culturally situated by ramping up the references to the Vietnam War.

We saw it have a direct impact on newly promoted copywriter Peggy Olson - played by Elisabeth Moss - when she has to speed up her work on a new campaign following some tasteless jokes made about soldiers.

She's also now living with her boyfriend Abe, so things are going pretty well for Peggy.

With most of today's reviews making references to the increased facial hair on the show, it's pretty clear this was not an earth shattering start to a new season.

But it was a stylish and well executed as ever.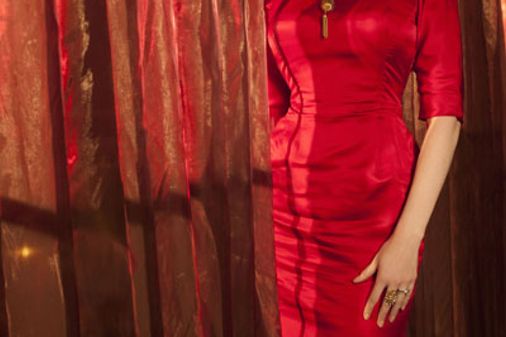 © WENN
Christina Hendricks plays Joan