Hollywood A-Listers Mila Kunis and Ashton Kutcher may have been looking for a slice of posh idyllic Britain when they chose to get a place in London - little did they know the spot they've gone for has a reputation for dogging.

The couple have found a flat in Hampstead, which is opposite a car park that's well documented online to be a favourite for those with a penchant for outdoor escapades.

The choice of area is apparently all down to 29-year-old actress Mila, who's in London to film new movie Jupiter Ascending.
The pair were originally planning to move closer to Marylebone - but Mila soon had other ideas.

A source told The Sun: "Mila has come over to London ahead of Ashton to start shooting.

"Ashton has a bit of time between projects so has decided to relocate to London and house-sit while Mila is at work. They originally planned to move more central to Marylebone but she fell in love with Hampstead when she had a day off there with some friends.

"The apartment they have is opposite a notorious car park on the heath which is well documented on the internet as a site for voyeurs seeking thrills with strangers."

We're assuming they didn't know about their colourful neighbours before signing a contract.

Ashton, 35, was probably eager to leave the hotel he's been staying at in Covent Garden - the same building where Mila's long term ex Macaulay Culkin is currently residing.

Although the Punk'd creator is still technically married to Demi Moore, he and Mila have been together for over a year and the reason for the drawn out divorce proceedings has been widely reported to be down to Demi.

Claims have been made that 50-year-old Demi has been intentionally delaying the finalisation of the split.

According to reports by TMZ, Demi is looking to hit Ashton in his wallet, since he was such a "bad husband".

The couple have been separated since November 2011 but there are no signs of the divorce going through yet.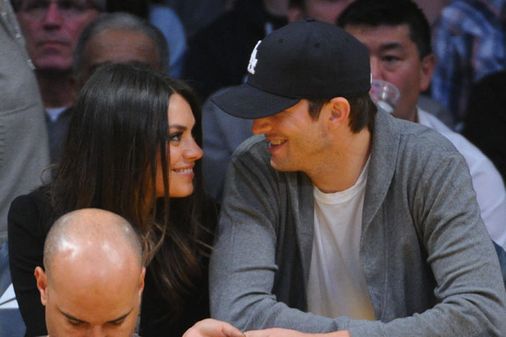 © Getty
Mila Kunis and Ashton Kutcher