We thought we'd start off with a lovely picture of Liam Hemsworth looking very dapper backstage in the rehearsal room at the MTV Awards 2013.
​We've got to say Liam - the beard looks good. Damn you Miley!
Tom Hiddleston took home the award for Best Fight along with fellow cast members Robert Downey Jr., Chris Evans, Mark Ruffalo, Chris Hemsworth, Scarlett Johansson and Jeremy Renner who won for their battle in Marvel's The Avengers.
Amanda Seyfried and Steve Carell took to the stage to present the award for best kiss. Amanda looked amazing in a print mini-dress as they gave the award to Bradley Cooper and Jennifer Lawrence. Jen was a no-show though so sadly there was no almost snog live on air.
Even movie stars need practice - here are Amanda and Steve rehearsing their big moment.​
Seth Rogen, Danny McBride and Zac Efron presented the award for Best Shirtless Performance to Taylor Lautner - but not without some rehearsal, as you can see below.

Seth gave the audience more than they bargained for as he dropped his trousers to reveal a lot of hair...we'd rather have seen Taylor take his top off again!
Kim Kardashian and her sister Kylie Jenner had been side by side all night with Kylie showing off her figure in white and Kim dressing up her bump in black. Here they are having a sneaky look through Kylie's phone backstage!
We spotted Quvenzhané Wallis doing some cheeky chair dancing to The Wanted during the in-show music. She was nominated for be breakthrough performance for Beasts Of The Southern Wild, but missed out to Rebel Wilson for Pitch Perfect.
Oh...and of course Flavor Flav was there!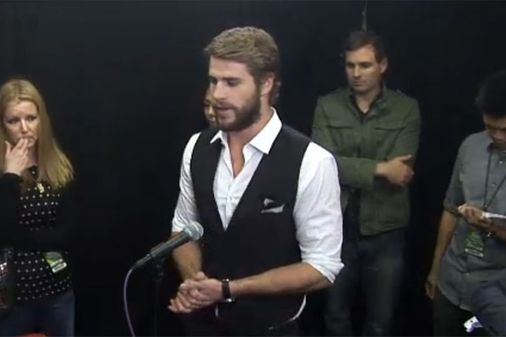 © MTV
Liam Hemsworth at the MTV Movie Awards 2013