One Direction's waxworks have been unveiled at Madame Tussauds.
Fans will now be able to get up close and personal with Harry Styles, Zayn Malik, Niall Horan, Liam Payne and Louis Tomlinson at the museum in London.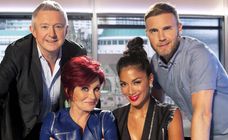 The waxworks are seriously impressive and could easily be mistaken for the boys themselves.
​It seems Zayn, 20, was pretty happy with the results, describing the wax version of himself as "wicked" and "bang on".
We're not sure Liam, 19, will be quite as impressed though, as his model looks a little puffy-faced and fails to capture the young star's good looks!
​
The figures are all accompanied by memorable quotes from the boys.
​Zayn's reads: "Life is funny, things change, people change, but you will always be you."

And Harry's says: "A dream is only a dream until you decide to make it real."

Directioners have wasted no time in going to check out the waxworks and have even been snapped kissing the figures of their idols.
​And 1D admirers are getting pretty excited on Twitter.
​One wrote: "If i cant meet one direction can i at least go to madame tussauds to see their wax figures omfg."

Another said: "The one Directions's wax figures at Madame Tussauds is awesome!"
Any fans who want to get a look - or a feel - will have to be quick though.

​The models will stay at the London Madame Tussauds for twelve weeks before they will tour museums in New York and Sydney.

© Getty
One Direction waxworks