Kate Middleton showed off her growing baby bump at Windsor Castle yesterday.
​
The Duchess, who's expecting her first child with husband Prince William in July, attended the National Review of the Queen's Scouts in place of the Queen.
​
Kate was glowing and looked obviously pregnant for the first time - during recent royal engagements her baby bump has been hard to spot.
​
The 31-year-old chose a gorgeous pastel Mulberry coat, pill box hat and nude LK Bennett heels for the event, which she attended for the first time in place of the Queen.

She once again proved she's a thrifty dresser, as she'd worn her Whiteley Cappuccino hat on several previous occasions, including the Epsom Derby.
​Kate is a volunteer of the Scout Association and spent time talking with some of the 400-plus Queen's Scouts and also met gallantry award holders, who have been nominated for their bravery and heroism.

She also chatted with Chief Scout Bear Grylls, who thinks Kate's to thank for the increase in popularity of the organisation.

The total number of teenagers in Scouting has almost doubled over the last 10 years - from 23,446 in 2003 to 40,578 in 2013.

Bear said: "It's great that so many adults are joining the Scouts, and I am sure the increase has had much to do with the Duchess of Cambridge becoming a Scout volunteer last year.

"The Duchess is an incredible role model and she helps us show that Scouting's not just for boys.

"She's also such a generous volunteer and everyone is so excited to have her in the Scouting family. Many people have followed her lead and are getting involved and enjoying the adventure."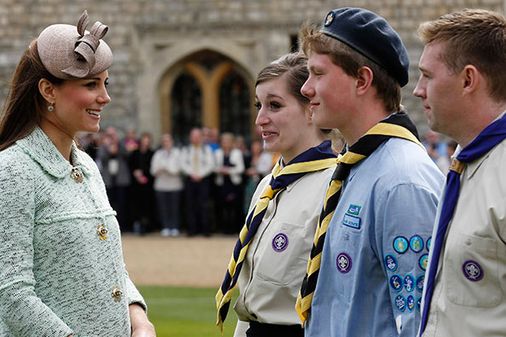 © Getty
Kate Middleton