One Direction stud Harry Styles was rumoured to be hooking up with Rod Stewart's daughter Kimberly after the pair went for dinner with her family and his car was spotted outside their house.

The 19-year-old certainly has a thing for older ladies so there was no surprise at the suggestion that he'd got it on with the 33-year-old mother of one.

Rocker Rod, who's in Britain to promote his tour, makes an appearance on tonight's Alan Carr's Chatty Man and lets slip that the young singer indeed did stay over.

He told Alan: "His (Harry's) car was here in the morning. Let's put it that way. But he may just have come round to pick something up."

He then realised that Kim may not have wanted her dad to tell the world all about her sex life.

He added: "Bu**er, I let the cat out of the bag."

Hollywood Life claimed Harry and Kimberly were seen kissing and holding hands during their family dinner.

A source told the site: "Harry has had the hots for Kim for a long time, he has always had a crush on her, and she totally gets him and his sense of humour."

But it doesn't seem that Harry's apparent tryst with the blonde heiress was much of a love connection.

He's since been reported to have kissed a Norwegian student while on tour in Oslo.

The floppy-haired ladies' man was pictured partying with a bus load of girls before heading to the arena to perform.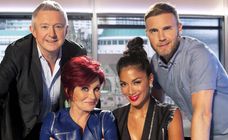 We wait with bated breath to hear who Harry's next hook-up will be...

© Getty
Harry Styles