The mystery female who egged Simon Cowell on Britain's Got Talent has been revealed as violinist Natalie Holt.

The 30-year-old brunette is a member of Raven Quartet, string band who appeared on the talent show in 2012.

Natalie's bandmates were quick to make it public that they had nothing to do with her shocking behaviour.

They tweeted: "We were as surprised as all of you.

They later wrote: "Just to clarify... The other 3 of us were working elsewhere today and found out when you did."

And this morning they added: "Natalie's decision to do what she did on Saturday eve was never discussed with the group or our manager; she acted entirely alone.

"We'd never condone such a disturbance & think Richard & Adam did a brilliant job of carrying on their performance under the circumstances."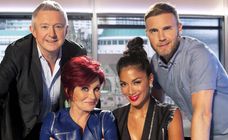 Natalie was playing as part of a backing group for singers Richard and Adam when she stormed forward during their performance with a carton of eggs.

Grinning, she began pelting show boss Simon Cowell, who had recently tweeted about his hatred for the food.

Fellow judging panel Amanda Holden, Alesha Dixon and David Walliams looked on in shock, before security eventually came on stage to remove her.

Though clearly shocked, Simon took it all in jest, removing his jacket before carrying on with the show - even making a few egg jokes along the way.

Amanda, meanwhile, branded Natalie a "stupid cow" for ruining the brothers' performance.

© ITV
Raven Quartet
Natalie has said of her actions: "I took a stand against people miming on TV and against Simon Cowell and his dreadful influence on the music industry."

But the embarrassed musician has since said sorry.

She said: "I want to apologise to Richard and Adam for overshadowing their performance. I've never done anything like this before and in hindsight I have realised it was a silly thing to do."

A spokesperson for the show added: "During tonight's show an incident took place during the finale of Richard and Adam's performance.

"Natalie Holt was part of the backing group for their performance and as a result of her misguided actions the police were called. However, we have decided to take no further action at this stage."
Richard and Adam came third in the competition, which was won by Hungarian shadow dancers Attraction, with comedian Jack Carroll in second.

The boys were understandably gutted that Natalie's actions overshadowed their singing.

They said: "It's disappointing that someone tried to sabotage our performance but we're proud that we made it to the end of our song. Thanks to everyone for their support. We've had a great time."

Watch E! News' video of Natalie Holt egging Simon Cowell...