Victoria Beckham has a self-enforced glam-ban when she's with her daughter Harper.

That's not to say she's in jeans and a hoody the whole time she's with her children, but the fashion designer has explained that she doesn't allow her youngest to see her when she's getting ready in case she gets ideas about putting on make-up.

The 39-year-old told The Sun: "I can't put on make-up when Harper's around, because she would join me immediately. She is a tomboy towards her brothers."

Baby Harper, one, did look like she was enjoying herself at the NHL hockey game she was at with her dad David, 38, on Tuesday night.

The adorable tot was even caught on the kiss-cam with her famous father.
It's not only Harper Victoria is protecting - the ex-Spice Girl works hard to ensure that all four of her children don't become insensitive or spoiled by their privileged upbringing.

Victoria revealed that her eight-year-old son Cruz asked her: "Why is it good to be famous, mum?"

To which she explained: "When you're famous you have a certain power to do good things."

Victoria added: "That is how we started talking about charity. Cruz was really sweet and said, 'When people listen to what I say, I could spread some good messages.'"

Both highly successful in their careers and as celebrity figures, Victoria and David are aware of the pressure their children must feel, both from themselves and the media.

She said: "The kids are under a lot of pressure to perform. I don't want to pressure them. They should be keen and reach as much as possible. But the most important thing is they are happy.
"They lead a very privileged life but they don't get everything they ask for. We always tell them how lucky they are."​
The fashion designer attempts to maintain a normal lifestyle for her family - as normal as the Beckhams could hope to obtain.

She said: "We're a musical family. The boys are in the choir and play guitar. I sing with them in the car like every mum. But I won't sing professionally ever again."

Of course, some opportunities become available to them that may not be so for other children.

Her eldest son, 14-year-old Brooklyn, is training with the Queens Park Rangers youth team, while her 10-year-old Romeo has modelled for Burberry.

Victoria said: "I asked if he wanted to do it and he said, 'Sure, sounds fun'. And he really had a lot of fun.

"Will he do it again? I don't know. He's more interested in school and sports right now."

Sounds like she's got the famous parenting thing down - good work VB!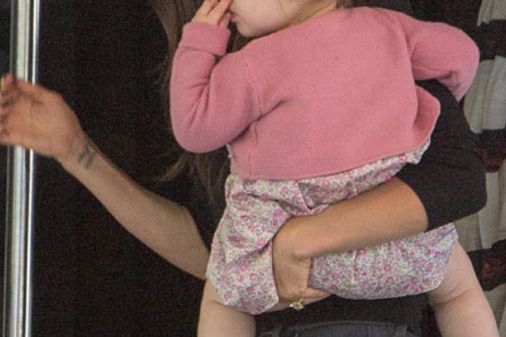 © Getty
Victoria and Harper Beckham