*Promoted content*
We know what you're thinking, who has the time to care about looking good at the school gates, you just about have the time to get the kids up, ready and looking presentable...
What if we told you it's actually possible to have you and kids looking good all before 8.30am. Just take note from these ladies who look chic, while putting in zero effort.
Maxi's
Maxi's are always a good idea. Whether it's a skirt or a dress, maxi's cover all sorts of sins, are super easy to wear, and can even be worn with trainers. This look works great for the beginning of term, when it's not freezing out yet. Just add a leather jacket or a slouchy jumper to complete the look.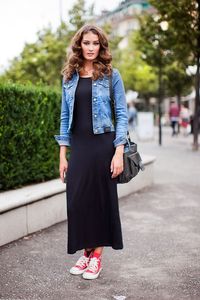 © carolinesmode.com
Trainers
When you're off picking up the kid's PE trainers, be sure to grab a pair for yourself too. Trust us, trainers will be your school gate staple. They're comfortable, cool and perfect for the days you have to run out the door, literally.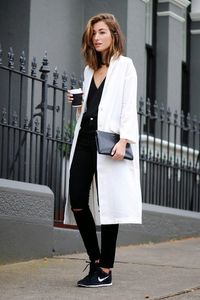 © getstyled.net
Statement Jacket
Do you know what's great about a good statement jacket? You can do it up and no one needs to know what you've got on underneath. Seriously, if you only buy one thing this new term, make sure this is it. To really stand out from the crowd be sure to go for a bold colour or a printed jacket. The other mummies will see you coming from a mile off...in a good way, obviously.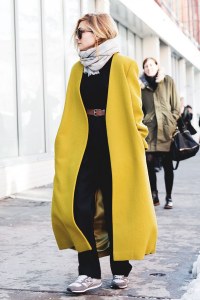 © collagevintage.com
'Mum' Jeans
'Mum' jeans....Yes the high-waisted, tapered denim your mother used to wear. This year they're back and have fast become the perfect way to up your school gate style, trust us. Pair them with a casual top, trainers, boots or flats and you have an outfit that's chic and effortless for everyday of the week.
© urbanoutfitters
Statement Carry-all
Let's face it, it's not just your little one who could do with a new bag this term. It's probably time you got yourself new arm candy. When buying one, make sure it's big and stylish. A good statement bag will give any outfit a luxe finishing touch.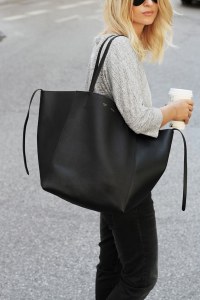 © bloglovin
Statement Necklace
Statement necklaces are a great way to jazz up any outfits. Seriously this piece of bling can transform a basic tee and jeans into a glam get up. Don't be afraid to go big with these, it doesn't matter if its half 8 in the morning, bling is always a good idea.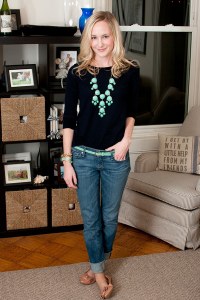 © luckyshops.com
Breton Tees
Breton tops have been giving women style points since Coco Chanel brought it out in 1917. Fashion fact! You can never ever go wrong with a Breton top, NEVER! The stripy top should be your wardrobe staple and will come in handy for many a school runs.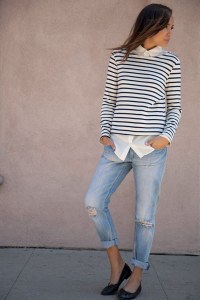 © Ring My Bell
Check in with our daily calendar to discover special offers, outfit inspiration and need-to-know life hacks for mums on the go. Find the full collection of 100% cotton, sustainable Kids Autumn Fashion online and in store right now!​
What is your school gate style? Tweet us @sofeminineUK.
This article was written by Tolani Shoneye. Tweet her @tolly_t
You Might Also Like...

Fashion Toddlers! 25 Photos Of Kids With Style

Looking Fab For Less! 10 Ways To Be A Budget Fashionista

​22 Stages Every Girl Goes Through In Primark