We are making frugal fashion a thing, and we think you should too. Just follow these steps and you will be looking like a fashionista in no time.
1. eBay is a fashion dream
Because you can pretty much find anything on eBay, and I mean anything. It's what fashion dreams are made of. A cashmere coat, for £12, plus delivery. True story!
2. Wear your coat on your shoulders
The chicest way to wear your coat is not to wear it, yes it's impractical and hugs are a no no, but it's fashion darling. Think of your coat as a cape, and just let it drape on your shoulders. It doesn't matter which old coat you chose, when you wear it this way it's going to look FRESH.
3. Sharing is caring
Why buy 'boyfriend jeans' when you can actually wear your boyfriend's jeans, the same goes for 'mum' jeans? Plus your boyfriend's shirt looks great worn unbuttoned with jeans and heels. Sharing is stylish these days.
Très chic!
4. Less is more
A wise man once said "We'll buy a lot of clothes but we don't really need em." Well the wise man was Kanye West, but it's still a valid point when trying to be a fashionista on a budget.

Invest in a handful of essential pieces and get mixing and matching.
5. Do a casual tuck
Just grab a piece of your top and tuck it in. It's casual, its cool and such a fashionista thing to do.
Exhibit A:
6. Troll the shops.
Listen up ladies, there's more to shopping than Topshop, Asos or Zara, of course all three are our firm favourites. But to really get the best for your money and bag some serious bargains you need to drop the snobbery and explore all shops. Yes that includes charity shops and believe it or not you can find decent buys in Asda. Yes Asda, never underestimate George Clothing.
7. Accessories, Accessories, Accessories
Did I mention accessories? Even the simplest tees can be stylish with the right accessories. Try clashing your accessories with your outfit. Wear a statement piece with casual outfits, and more casual accessories with dressy looks. You don't have to invest in a whole new wardrobe to look on point.
8. Leave your hat on
No matter the outfit, just stick a hat on, and watch your style cred instantly increase.
9. DIY Fashion
Do it your damn self. Make yourself one of a kind fashion pieces and watch other fashionistas die with envy.

It's cheap, it's easy and it's exclusive to you.
Learn how to make this bag here.
10. Primark
Because Primark never fails. Where else can you get a complete outfit, knickers included for £20.99? Frugal fashion at it's best.
Looking for fashion inspiration? Check out these sofeminine's edit of fashionistas from the streets of London.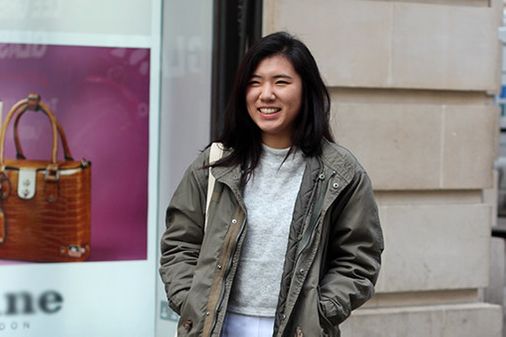 London Street Style 2015: January Blues
Have you got what it takes to be a budget fashionista? Tweet us @sofeminineUK
This article was written by Tolani Shoneye. Tweet her @tolly_t
You Might Also Like...
​22 Stages Every Girl Goes Through In Primark

Dead Arms, Cat Fights & Never Eating Again: 17 Stages Of Sale Shopping

10 Ways To Keep Your Chic Together & Avoid The January Blues