From glazed doughnuts to mouth watering meatballs, these cookbooks prove that gluten-free meals are pretty darn good.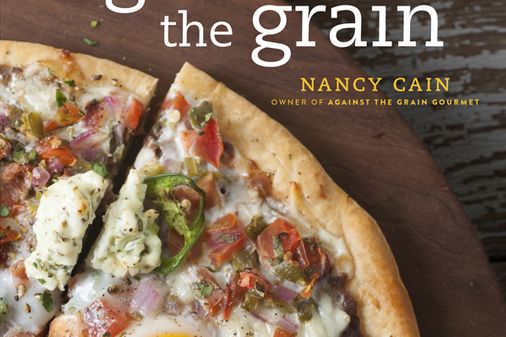 © Amazon
Against the Grain by Nancy Cain
1. Against the Grain by Nancy Cain
Filled with 200 groundbreaking recipes, this book takes many family favourites, including pizza and pasta, and adapts them into gluten-free recipes. Packed with information for gluten-free beginners it's a great introduction to this type of cooking.
Available from Amazon
2. Seriously Good! Gluten-free Cooking by Phil Vickery
It's by Phil Vickery, so of course it's going to be good. The Michelin star chef has put together tasty gluten-free recipes in association with Coeliac UK charity. The book contains a huge range of recipe ideas, from breakfast to dinner to snacks and is sure to revolutionise how you cook.
Available from Post Script
3. Gluten-Free Girl Every Day by Shauna James Ahern
Gluten–Free Girl Every Day features food you want to cook and can cook everyday. Duh. The recipes are fresh, satisfying and filled with great flavours.
Available from Amazon
4. Gluten-Free on a Shoestring by Nicole Hunn
It's fair to say that the gluten free lifestyle is not the cheapest, which is why this book is a God send. It's packed with 125 easy, cheap recipes. We can't get enough of the Perfect Chocolate Birthday Cake, and it's not even our birthday.
Available from Amazon
5. The Best Gluten-Free and Dairy-Free Baking Recipes By Grace Cheetham
Being gluten-free doesn't mean you can't get in on the action when it comes to desserts. From melt in the mouth red velvet cake to the perfect Victoria sponge cake, this book offers so much variety you'll never feel like you're missing out again.
Available from Amazon
6. Gluten-Free & Vegan for the Whole Family by Jennifer Katzinger
This book is filled with wonderful creative recipes that are suitable for the whole family. The dishes taste good and are pretty easy to make.
Available from Amazon
7. The Joy of Gluten-Free, Sugar-Free Baking by Denene Wallace and Peter Reinhart
Carefully crafted for anyone who is gluten sensitive, diabetic, or trying to eat less carbs this book is filled with 80 recipes that bakers of all levels can make. From delicious breads, to pastries and cookies, this book with change how you bake.
Available from Amazon
8. Against All Grain: Meals Made Simple: Gluten-Free, Dairy-Free, and Paleo Recipes to Make Anytime by Danielle Walker
Clear, concise and easy to follow, this cookbook is very informative and every dish is worth making. It includes a 8-week meal plan, shopping lists and recipes for leftovers. So simple.
Available from Amazon
9. Deliciously G-Free: Food So Flavourful They'll Never Believe It's Gluten-Free by Elizabeth Hasselbeck
Elizabeth Hasslebeck puts together 100 delicious zero-gluten versions of old classics and new favourites that are ideal for families managing coeliac disease. We can't get enough of her lasagna recipe.
Available from Amazon
10. Paleo Cooking from Elana's Pantry: Gluten-Free, Grain-Free, Dairy-Free Recipes by Elana Amsterdam
The go-to cookbook for people who are not only gluten-free but also dairy and grains free. The recipes are simple and the book offers short ingredient lists, which is sure to make gluten free cooking easier. Definitely one to add to your cookbook collection.
Available from Amazon
What is your favourite gluten free cookbook? Tweet us @SofeminineUK
This article was written by Tolani Shoneye. Tweet her @tolly_t
You Might Also Like...

Going Gluten Free? 10 Top Tips On How To Go Gluten Free

10 Of The Best Vegetarian Cookbooks

Muffin Tops Begone! Everything You Need To Know About The Wheat Belly Diet