Anne Hathaway is pregnant with her first child, Star magazine reports.

The Hollywood actress' brother, stand-up comedian Tom, allegedly let it slip accidentally during his comedy routine in Brooklyn, New York at the end of last week. Fingers crossed Anne sees the funny side of it!

A member of the audience told Star magazine: "Tom opened his act by talking about Anne's personal life.
"He said, 'My sister got married last year, and now she is about to be a new mom!' I don't think he realised what he had done."

We've all been there Tom! It's unknown whether Anne approved Tom's revelation – we're guessing not, as knowing Anne she'd probably have a very endearing and glowing statement all planned out (if her Oscars speech is anything to go by).
But despite the unplanned revelation, a source has revealed that Anne is thrilled by the pregnancy, saying: "Anne is over the moon and Adam is extremely giddy. She's been wanting to get pregnant for a while but knew that she needed to wait for the right time.

"They are more than ready for this next chapter in their lives."
The rumour mill did begin to churn around Halloween when Anne was spotted in loose fitting clothes as she put up some spooky decorations.

​Apparently the Dark Knight Rises actress will take some time off when the baby is born, with the insider telling Star magazine: "She's filming now but hasn't lined up any future projects. She and Adam want to put all their time and energy into the baby."

The A-lister has mentioned her keenness to be a mother, previously stating: "I've wanted to be a mom since I was 16. But I also wanted to have a career, so I have been chomping at the bit to be a mother for a really long time. I also had to find a baby daddy first – which I now have."

Yes you do Anne, so we hope the rumours are true!

What do you reckon Anne would call her baby? Cosette perhaps? Maybe not... Tweet us @Sofeminineuk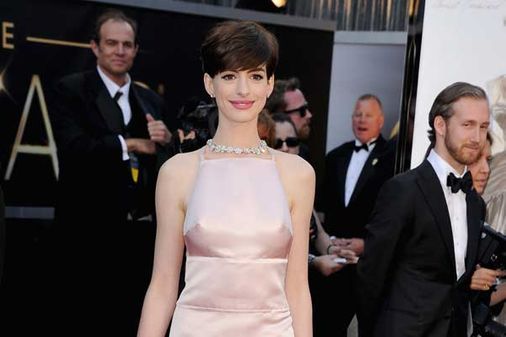 © Getty
Anne Hathaway