Jennifer Aniston is set to wed her boyfriend of two years, Justin Theroux, but rumours have now surfaced that Brad Pitt and Angelina Jolie - who met on the set of Mr and Mrs Smith in 2004 - are also due to announce their marriage plans after a long engagement...and the two couples' plans could collide.

As exciting as it is that Hollywood royalty are tying the knot left right and centre, this particular couple clash is pretty much just awkward.

Brad shocked the world when it transpired he was dating Angelina Jolie after the two of them met on the set of Mr and Mrs Smith, despite the fact he was still married to Jennifer. Although Brangelina denied an affair, Brad admitted that they "fell in love" during the filming.
Poor Jen filed for a divorce a year later, and now it appears that Brad and Ange may be setting their date at a similar time and in the same place as Jennifer. Ouch, not cool guys!

Grazia have revealed that Brad and Ange have finally arranged a prenup (of £200 million no less!) and so their wedding date could be just around the corner.

Sources have reported that the couple wishes to wed in Hawaii before holding the party to end all parties at their chateau in the South of France. Hahaha. Rich people ey? What are they like!
Jennifer and Justin, on the other hand, were planning a fabulous ceremony at their Bel Air mansion, though this plan has now allegedly been ditched in favour of a quiet ceremony in one of Justin's favourite places. A quiet, tropical ceremony, where the palm trees sway and people dance the hula…

"Jen and Justin have gone back and fourth so many times on the matter, but the current plan is Hawaii in the New Year, which is ironic, as it was their very first choice," says a source.

"They've changed their mind about having a big bash in Bel Air. They want it to be intimate and different to Jen's last star-studded wedding."
So everyone is on the path to Hawaii. The warpath, more like!

How cringey do you think the possible wedding clash could be? Tweet us @SofeminineUK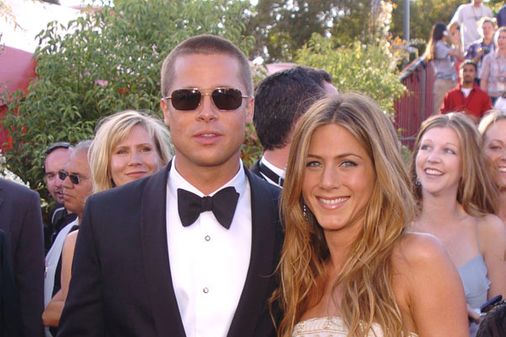 © Getty
Brad Pitt and Jennifer Aniston