After poor Mr. Pattinson had to withstand the media sh*tstorm that was "how do you feel about your girlfriend sleeping with the married director of her new crappy movie?" it's about time that karma came back around and awarded Edward Cullen a worthy lady. I have a feeling this girl is going to be a nice change of pace for our favourite vampire, so let's get the deets on her.
She's also from London
FKA twigs real name is Tahliah Debrett Barnett and she's 26 years old (Pattinson is 28, so we're liking this age difference). She grew up right outside of London with her mother who is half English and half Spanish. Her father, who she didn't meet until she was 18, is from Jamaica, which explains why she has effing incredible skin tone. She moved to London at the end of Catholic high school to pursue her dream of becoming a singer and dancer. Needless to say she has DEFINITELY shed those Catholic school girl roots.
She got her start as a backup dancer
Before her vocal chords started to become famous, FKA twigs got her start being a backup dancer for some of the biggest names in pop: Kylie Minogue, Ed Sheeran, Taio Cruz, and Jessie J. This is how she got her nickname "twigs" because her joints used to crack when she danced. Another performer in London was also named "twigs" and was not happy about her name being used, so that is when Tahliah incorporated "FKA," which stands for "formerly known as," into her name. Very Prince of her.
She launched her music career on YouTube
Besides being a very talented dancer, this may be the only other thing her and Justin Beiber have in common. FKA twigs started putting her music on her own YouTube channel, and after the was featured as the "New Band of the Day" by The Guardian she was picked up by an indie record label which released her subsequent two albums. You can follow her on her YouTube channel here.
Like we said, she's an insanely good dancer
She's a trained ballerina, and it shows. In her video directorial debut, FKA twigs made it very clear that she can crump, pirouette, and do the splits. If we didn't know why Pattinson liked her already, we definitely do now:
Her and Pattinson met through Sienna Miller
That's right, Sienna Miller and her hubby Tom Sturridge took Pattinson to her concert in London where he was reportedly so into her voice that he asked to be introduced to her after the show. Backstage, a source said: "They were with a big group of friends, sitting at a table in the garden dining area, about 10 people. They sat on a couch together totally flirting, holding each other's hands and kissing here and there. [They were] really cute and they seemed super happy! They were there for about an hour." Sigh.
They've already reportedly been together at least two months, so good luck to the happy couple! We'll leave you with some of her epic fashion looks and another one of her videos, very Aaliyah-esque.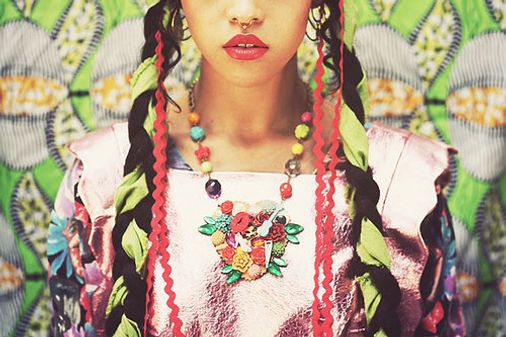 © We Heart It
Do you think FKA twigs is a good match for Robert Pattinson? Tweet at us! @sofeminineUK!

This article was written by Dagney Pruner. Follow her on Twitter! @dagneyp
You might also like:

10 Reasons Selena Gomez And Orlando Bloom Would Be The Ultimate New Power Couple

50 Shades of Grey Sex Scenes To Be Filmed AGAIN As They Weren't 'Sexy' Enough

16 Reasons Why Men With Chest Hair Are Superior Beings