It's a known fact that Justin Timberlake can't not look good. Even in his semi-awkward 'N Sync days (seriously though, that hair), the pop star was a fan favourite, making girls swoon with his youthful voice and boyish good looks.

So it should come as no surprise that the stylish 32-year-old made the cover of GQ's annual Men of the Year issue.

But the truth is the pop sensation - often compared to icon Michael Jackson - hasn't had a few career speed bumps lately.

The 32-year-old starred in recent thriller Runner Runner, which he made with Ben Affleck, but it barely brought in £5 million during its opening weekend in the US and on the whole it was panned by critics.

Critics were also less than fawning about his latest album The 20/20 Experience: 2 of 2.

Regardless of the criticism, Justin is not letting the haters bring him down and he's set on continuing both his acting and singing career.

"I don't see myself as someone who's ever going to be defined by one moment," Justin tells GQ. "It's on to the next."
Justin has an upcoming role in The Coen brothers' next film, Inside Llewyn Davis, which is out in UK cinemas in January.

His part as a folk singer is small, but funny, and from what we've seen the singer-turned-actor has no problem making fans laugh.

"You do a Coen movie, and secretly you're like, 'All I want to do is make people laugh in this movie. If I can make people laugh in this movie, then I don't care. Whatever else happens, happen,'" Justin says in the interview.

Despite his fame, fans and insanely beautiful wife Jessica Biel, Justin still insists we shouldn't consider him to be "cool".
​"Listen, I'm not cool," Justin tells GQ. "Being cool is about keeping your blood pressure steady. So no. Don't be cool. Be passionate. Be dedicated. Be tenacious. Be uncompromising. Be pissed. Be happy. Be sad."

"I've made a career out of doing things that I should not be doing," Justin says of his focus on movies and comedy.

​"I wasn't cool about it because being cool would have meant I passed up on those opportunities. If you do that, it's because you're afraid. And what are you afraid of?"
At last night's private dinner for the cover star, Justin and Jessica looked absolutely picture-perfect (no surprise there).

J.T. wore a charcoal grey Tom Ford suit with a plaid print, while Biel sported a black silk skirt and a white silk top with a pair of green heels, all designed by Giambattista Valli.

Whether he's on the big screen or on tour, we're a big fan of Justin. Have you picked up his latest album? Tweet us @SofeminineUK.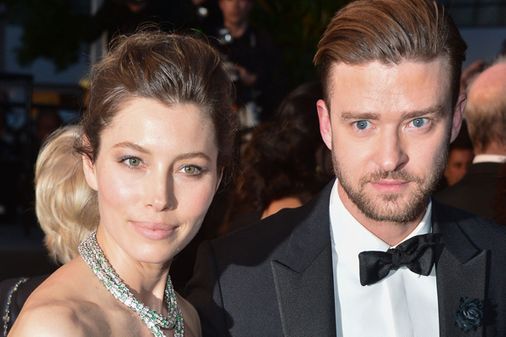 © Getty
Jessica Biel and Justin Timberlake