Miley Cyrus has done all she can in recent months to ensure we forget her straight-laced Disney ways.

The singer's twerked, stripped and gurned her way into our bad girl books - and the carnage continues.

The video for Mike WiLL Made It's track 23 has just been released, and it features Miley rapping and grinding like there's no tomorrow.

The song, which first dropped back in August, also features Wiz Khalifa and Juicy J.

But it's mostly Miley rapping rude lyrics and wearing as few clothes as possible.

The 20-year-old flaunts her toned bod in a skimpy basketball vest, which is pretty apt as the track is a reference to Michael Jordan's jersey number.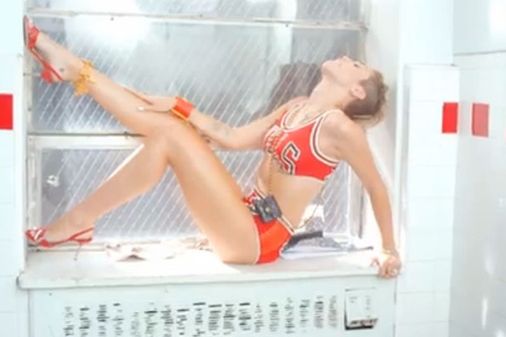 © Vevo
23 video
We also see plenty of Miley's tongue and at one point she dances in a tiny black dress with a foam finger on her hand.
​Miley received a lot of criticism when she danced with a foam finger for her VMAs performance - perhaps this is her way of telling us she doesn't care what we think!

Some of Miley's rap lyrics include: "Drinking out the bottle, I got no respect/Looking like a model, you just got a check/I back it up, cause I don't give a f***/If you're a lame, that's a shame you can't hang with us."

She continues: "I'm in the club high off purp with some shades on/Tatted up, mini skirt with my J's on."

Got that?
And the headlines continue for Miley, as she's also just revealed two new tattoos - which she had inked during an interview!

The newly single star decided to celebrate her recent cover for Rolling Stone magazine by getting some new body art.

She told the mag she wanted to do "something fun" to mark the occasion during the chat.

Miley said: "I thought about going to play laser tag. But laser tag sucks. We could have gone bowling, but what are we, 90?"

So her second thought was a tattoo.

She reasoned: "People get tattoos of the most f*****-up s***. Did you know Alec Baldwin has Hannah Montana's initials tattooed on him? No, wait - Stephen Baldwin.

"He said he was my biggest fan, and I told him my biggest fans have tattoos. So he got 'hm' tattooed on his shoulder."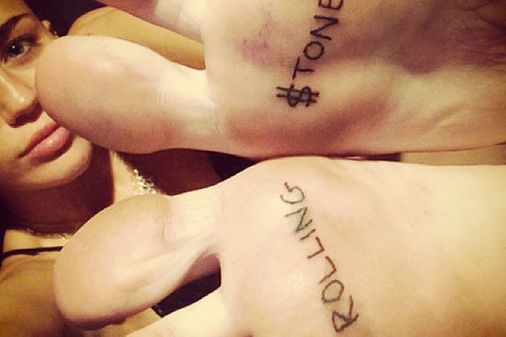 © Instagram
Miley Cyrus' new tattoos
So Miley - who has tens of tattoos already - had 'Rolling' inked on the sole of her left foot and '$tone' on her right.

Miley is, of course, topless with her tongue out on the cover of the magazine, with black make-up smudged underneath her eyes.

She wears gold jewellery, her tattoos are on show and she's sticking her tongue out.

The cover line reads: "Good Golly Miss Miley!"

Miley took the chance in her interview to hit back at those who are criticising her new look.

The feisty star said: "People are like, 'Miley thinks she's a black girl, but she's got the flattest ass ever.'

"I'm like, 'I'm 108 pounds! I know!'"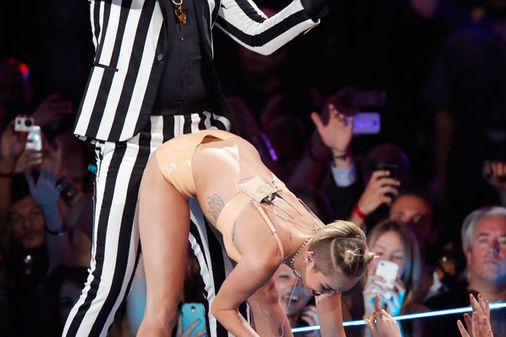 © Getty
Miley Cyrus at the VMAs