Harry Styles has been quizzed on the rumours that he and Nick Grimshaw are secretly dating.

A relief for all Hazza fans out there - he denied it entirely.

The One Direction heartthrob appeared to be clueless about the claims and assured people they weren't true.

Asked about "the rumours" by GQ magazine, 19-year-old Harry simply responded: "What rumours would they be?"

After the mag explained they were referring to implications that he was bisexual and shared a secret relationship with Radio 1 DJ Nick Grimshaw, Harry insisted he "didn't even know" there were such whispers.

He told GQ magazine: "We're not dating, no. We're just friends."

Pressed on whether he was actually bisexual, Harry continued: "Bisexual? Me? I don't think so. I'm pretty sure I'm not."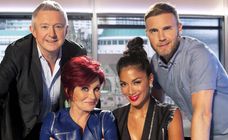 The gossip was fuelled by the pair's habit of sharing clothes and partying together.

And this isn't the only gay rumour Harry's faced over the years - he's also been linked to his close friend and band mate Louis Tomlinson.

He explained: "Some of them are funny, some of them are ridiculous. Some of them are annoying.

"I don't want to be one of those people that complains about the rumours.

"I never like it when a celebrity goes on Twitter and says, 'This isn't true!' It is what it is; I tend not to do that.

"The only time it gets really annoying is that if you get into a relationship and you get into a place where you really like someone and then things are being written in the papers that affect them and how they see you.

"Then it can get annoying."

We're guessing Caroline Flack would agree with that sentiment.

© Twitter
One Direction book cover