Harry Styles has demonstrated his heroic side after helping a fan as she was pushed by the crowds, causing her to fall flat on her face in front of him.

Instead of skirting around her and getting into his car – which must have been on his mind, with those pesky paps following him wherever he goes – Harry endured the flash of cameras for a little while longer as he helped the girl to her feet after she was knocked over.

The girl was crying as the You Don't Know You're Beautiful singer picked her up, though we're not sure whether that was out of pain or absolute awe.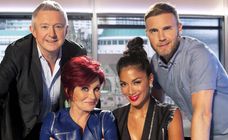 She also looked thoroughly overwhelmed as Hazza spoke to her and asked everyone to give her some space. What a babe!

The girl quickly got over her fall though as she realised this was her chance to immortalise the moment with Harry, so after a big hug she handed her phone over for a picture, beaming through the tears.

One of the paparazzi then shouted: "Harry Styles is the BEST!" as everyone else began chanting: "Harry! Harry! Harry!"
Honestly, we're truly impressed that he didn't punch the air on his way out like the conquering hero that he is.

Will you be planning to trip in front of Harry if you ever seen him? Tweet us @Sofeminineuk

© Getty
Harry Styles