Harry Styles is probably the most eligible bachelor in the world – guys want to be him, girls want to date him etc etc. But apparently the 20-year-old is paranoid that girls will only like him because he's famous. Naw, poor Hazza!

According to Harry's cousin Ben Selly, Harry never knows whether girls are genuine or if they just want to go out with him for his money and fame. Ben revealed: "It's something he struggles with because it's tricky. That's probably why he ends up dating people in the same industry as him.

"Taylor Swift was a big star, as was Harry so they kind of cancelled each out. Harry's had so many girlfriends. I wouldn't say he's definitely with Kendall.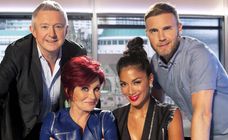 © Getty
Harry Styles
"I'm not sure whether she's a friend or a love interest, it's hard to say with Harry."

Can we just point out – surely if he's worried about fame-hungry girls he wouldn't have ended up with Kendall Jenner?! We're not saying that she is attention seeking, but she is willingly on a reality TV show that reveals every detail of her personal life…

Ben had nothing but nice things to say about his cousin though, as he also revealed that Harry is the sweetest person in a relationship. Stay calm ladies.

He said: "It's Harry who keeps getting dumped. He's not a dumper, he's a dumpee. He's got the biggest heart so the guy wouldn't have the guts to dump a girl, he's too nice. Did Taylor Swift dump him? I'm not saying!"

Oh Ben, tell us! It sounds like the boy band member ought to choose a girl who loves him for who he is over his devilishly handsome looks though, as apparently the young star has began to worry about his receding hairline!

According to The Daily Star, Harry is worried that his head of hair is going in the wrong direction and has ordered his hairstylist to position his curls in a certain way to keep it a secret.

A source revealed: "Harry started noticing his receding hairline a while back. At first he didn't take much notice but he's now started to get paranoid about it. It's not helping that his dad and bandmates have been making fun of him."

What would Harry be without his famous hair?! Tweet us @sofeminineUK