Harry Styles has debuted yet another tattoo - this time a giant rose on his arm.

The design sits just below the pirate ship pic on his left bicep and as yet Harry has stuck to the black rather than coloured ink.

The new design is thought to be Hazza's 44th addition - that we know of!

The 1D singer had this one done in LA when the lads were given some much deserved time off after their mega world tour.

It's fair to say One Direction are obsessed with tattoos, with only Niall Horan keeping it clean cut.

Add to that his adorable baby face and Niall looks a good few years younger than Harry - even though Styles is the youngest in the band at 19.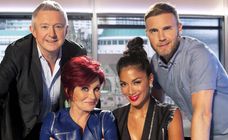 The boys' penchant for tattoos has got them into a bit of hot water though, with people questioning the effect it's having on their young fans.

Twitter is full of users declaring they're inspired by Harry's new tat and are off to get one themselves.

One user wrote: "@Harry_Styles I'm getting my tattoo that's inspired by you soon, I'm sh*tting it cos it's gonna kill but heyyyyyyy."
One fan who appeared on a Channel 4 documentary has even had all of Louis Tomlinson's tattoo designs inked onto her own body.

While most Directioners appear to like anything Harry and the rest of the boys do, some are slightly sceptical about their obsession with visits to the parlour.

One wrote: "I go on tumblr & see that @Harry_Styles got a new tattoo.He'll probably have a slice of pizza on his leg by Monday


."

What do you think of Harry's new tat? Tweet us @sofeminineUK

© Twitter
Harry Styles