Harry Styles has been linked to a string of beautiful women since finding fame and now he's finally told us just how many of them he's slept with.

The One Direction hottie came over all shy when he was asked just how big "his number" was.

In fact, he denied his "womaniser" reputation and claimed he'd only slept with two people!

Yes, we're not so sure either.

The 19-year-old has been linked to the likes of Caroline Flack, Cara Delevingne, Taylor Swift, Kimberley Stewart and more recently Kara Rose Marshall - to name but a few.

He was also memorably caught on camera during the X Factor final congratulating Matt Cardle on just what his victory would mean in terms of the ladies.

In case you've forgotten, he was spotted whispering: "Think of how much p***y you're going to get."

© Getty
Harry Styles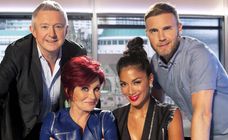 So, two people you say Harry?

In the One Direction interview with GQ the reporter asked the ladies' man whether he'd made it to triple figures in the sack.

Harry insisted: "It's definitely lower less than 100. Yes, lower than 50."

Pressed for an answer, he told the mag: "I'm not doing this! You're cornering me."

As his total dwindled he was asked if it was less than 10.

He responded: "Yes. Two people. I've only ever had sex with two people."

We're just not sure that with such loyal - to the point of scary - fans, whether Harry would have wanted to admit to a much higher number.

Either that or he's lost count...