Harry Styles drove his fans wild yesterday after twerking at the Teen Choice Awards.

The One Direction singer was singled out by hosts Darren Criss and Lucy Hale, who challenged him to show off his best twerk - the dance craze that requires you to shake your hips and bounce up and down.

Pretty Little Liars actress Lucy said to Harry and his pal Ed Sheeran, who were sat together: "Do you guys know how to twerk?

"Harry's on the edge!"

Initially not wanting to do anything embarrassing, Harry responded: "I can normally do it but I'm in my slacks."

Yes, he's been in the US too long - he was in super skinny jeans - we're not exactly sure what kind of trousers slacks are.

He then changed his mind and got up to do a quick booty shake.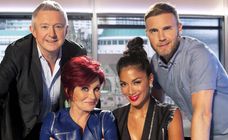 By the power of a world of super fans with their computers at hand, this clip has been turned into vines, GIFs and videos.

Most of them are put to the song Don't Drop That Thun Thun Thun, which in fact also became a Twitter trend; #harrydroppedthatthunthunthun.

The teen hunk - who took home two individual awards for being both a hottie and having a great smile - seemed to regret his decision a little.

He tweeted: "Note to self. Don't 'twerk'."

Even if Hazza wasn't so sure, the fans and the crowd were loving it.

Host Lucy said: "He's made the show."

And Darren added: "The bar has been set people."

© Getty
One Direction