Harry Styles and his bandmates Niall Horan, Zayn Malik, Liam Payne and Louis Tomlinson ­– otherwise known as One Direction – could be spending the new year in true style after being invited to perform at Richard Branson's New Years Eve party.

The Billionaire businessman is said to be planning the mother of all parties, with a guest list made up of "A-listers, millionaires, billionaires and Hollywood stars".

​Pssh. Whatever, we wouldn't have wanted to go anyway.

A source told Entertainmentwise: "One Direction have been asked to be the main attraction and perform at the party.

"Officially the bash is being thrown to celebrate the start of space flights with Virgin Galactic which are due to be launching by the end of 2014, but it will not be a 'worky' event.

"Sir Richard wants everyone to let their hair down and have a good time. He has invited guests to stay for a decadent party."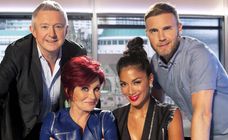 Harry will be able to show the rest of the boys around the little piece of paradise though, as last January the You Don't Know You're Beautiful singer hit the island after an alleged argument with then-girlfriend Taylor Swift.

The two of them had celebrated New Years in Times Square, New York before heading to the Caribbean, where apparently it went downhill as Taytay flew home and Harry went straight to Richard's place to blow off some steam.
A source told the Sun that Harry: "couldn't keep his eyes off" Bravo TV host Hermione's curves, and that "Harry was fuming as the row with Taylor got really bitter and a lot of things were said that they both didn't mean."

"But by the time he arrived at Sir Richard's place and saw the luxury and women holidaying there, he soon calmed down. Not only that – by the time he jumped in the island's hot tub and splashed around with Hermione he was back on form."

What a nightmare way to spend the New Years!
​
Have you made your plans yet for New Years yet? Any islands involved? Tweet us @SofeminineUK

© Getty
Harry Styles