Former X Factor winner James Arthur has gotten himself on the wrong side of One Direction and their massive fan base by tweeting abusive messages clearly aimed at the boys.

One of them included: "And f**k boybands! Bring on the hate I don't wanna be popular. Apart from JLS who are genuinely the coolest people I've met in music."

Anyone else get the impression that JLS are awkwardly shuffling their feet and asking James Arthur not to involve them in this one?

The One Direction fans, who are famously fiercely loyal of their boys – Harry Styles, Niall Horan, Louis Tomlinson, Liam Payne and Zayn Malik – immediately hit back at the Impossible singer, reminding him that 1D supported him during the competition that made his name last year.

However James, who has since deleted the tweets, wrote that Louis had been a "little b**ch" towards him after he said One Direction were simply a "marketing product".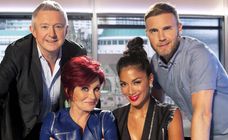 James stood by his claims, telling anyone who wanted to listen that he didn't care whether he was popular, tweeting: "I make music.. Love it or hate it that's your human right but if you were a fan and now you aren't then be my guest and hate me I don't care.

If you are now not a fan of me because of how honest I am then you're not a fan that I want anyway.. I don't care for markets and business."

Even the market and business of X Factor that made you famous James?
The 25-year-old singer then tried to defend himself with an explanation as to why he was targeting 1D, in which details of his and Louis' texting brawl emerged.
He tweeted: ​"Look, I do appreciate their help but like a lot of people.. When I said 1D were about marketing certain members of the band turned on me too … I meant no offence and they were pretty awful to me too so I don't suffer them or pretend to like…"

"I have nothing against One Direction fans or the band itself I have an issue with one member … they insulted me when I had nothing against them so now I don't pull any punches when I'm asked…"

"[They] just said some things via text and the things that were said warrant my dislike for them so that's it .. I'm not being ungrateful."

To be fair we don't know what Louis said to James, it could have been something terrible! The one-sided argument on Twitter did seem a little silly though, as Louis has kept silent on the matter.

We're pretty sure James was dissing Louis as well, as when he was asked exactly who he was referring to, he wrote: "Well the one I called a little b**ch obviously coz he wouldn't say the things he said to my face."

Ah James. Don't you think you're a little too old to be getting in a state about mean text messages?!

What do you think Louis said to James? Tweet us @SofeminineUK

© Getty
Louis Tomlinson