Everybody stay calm and let's try not to cause a panic - Kimye could be moving to London. We know.

Heat magazine has reported that the engaged couple have apparently been talking a lot about the move, with an insider revealing: "Kim and Kanye see London as the next phase of their empire growth.

"The US is pretty much a saturated market for them now, but their business people reckon that London could be their new LA."

No Kimye, you wouldn't like it here! It's cold and rainy, and if you say you are a creative genius in an interview (yes Kanye West, we are looking at you) then Graham Norton, Jonathan Ross and Alan Carr will not take you seriously.
However it's an unavoidable fact that we have a Royal Family, which reportedly is very interesting to Kanye, who would reportedly like to get his five-month-old daughter North rubbing shoulders with England's elite.
​The source says: "Kanye talks a lot about how he wants his kids to attend the same boarding schools that Kate Middleton and Prince William did. He wants them to go to Oxford, grow up alongside Royalty and to be part of the elite."

Oh goodness, do you think he wants to set Nori up with Prince George?!

According to sources, the couple's ideal living area would be around Kensington or Chelsea – no surprise there.

Harry Wigram of Chelsea Strutt & Parker estate agents told Heat magazine: "I am sure Chelsea's notorious social scene and the King's Road with its designer shops will certainly meet the high standards of Kim and Kanye. Their ideal property would most likely set them back £15million."
Since the couple's net worth is around £80million, this should be no big stretch.

​Apparently they were considering Beckingham Palace as the Beckhams have recently put their property up for sale, but were deterred when they realised it was not actually a palace.

An insider revealed: "They considered putting a bid on the Beckhams' old property because they thought it was a palace and in London, but once they saw the details they changed their minds."

Oh Kimye.

Kim's mum Kris Jenner is also completely up for the move, with the source saying:

"Kris is in, hook line and sinker. She looks at London, sees all the power players of the world and wants to be moving in those circles.

She wants Kendall to sign to a European modelling agency for luxury label work and Kris is pushing for Khloe to be their UK brand ambassador."

The source finally revealed, rather ominously, Kimye's future plans in London, stating: "They're vying for London domination and, from there, an entry to Paris and the major capitals of Europe."

Yikes! Somebody hold us, we're very afraid!

Would you like to see Kimye move to England? Tweet us @Sofeminineuk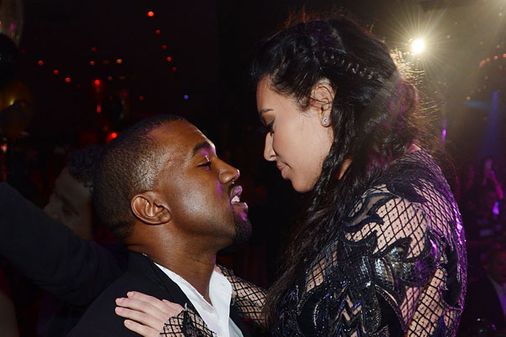 © Getty
Kim Kardashian and Kanye West