The editor of French Closer magazine been charged in connection with the published topless pictures of Kate Middleton.

Laurence Pieau now faces the prospect of a trial for an alleged breach of France's strict privacy laws.

When the photos were published last September, Laurence made reference to Prince Harry's recent Las Vegas scandal and bragged: "We have to say that after Closer magazine comes out, Harry is going to feel a lot less alone."

It's now thought he could face up to a year in jail.

A 28-year-old Paris agency photographer was also reportedly arrested and charged, while another is said to be "on the verge" of being charged.
Kate Middleton and Prince William took legal action against French Closer after they published pictures of the Duchess topless on holiday.

The couple, both 31, will have presumed they wouldn't have been photographed as they relaxed at the Chateau D'Autet in Provence - a magnificent building set in 640 acres and owned by the Queen's nephew.
​The full text of the article in the magazine read: "A little more than a year after their marriage, the royal couple was offered a romantic getaway, far from the protocol and etiquette in their very own garden of Eden.

"Almost alone in the world...because Closer was there! After the Olé Olé holidays of Prince Harry in Las Vegas, discover the very sensual shots of Kate Middleton and her husband Prince William.

"Discover the incredible pictures of the future Queen of England as you've never seen her before... and as you will never see her again!"

Topless images of Kate were also published in Italy, Ireland, Sweden and Denmark.
Photographer Valerie Suau admits snapping Kate in the south of France last September but describes her photos as "decent".

They were published in La Provence regional newspaper and Valerie has since been charged with invasion of privacy for photos of Kate in a swimsuit.

Kate and Wills were on a royal tour of South East Asia when the topless pictures surfaced.

Though they remained in high spirits for the cameras, they were said to be "saddened and disappointed" behind the scenes.

In June, a French court ruled that further intrusive pictures of Kate - who welcomed her first child this week - cannot be reprinted.

The judge's ruling cleared the way for the police's criminal investigation to discover who took the pictures.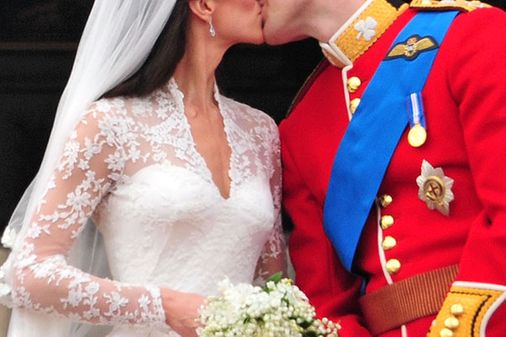 © Getty
Kate Middleton and Prince William