Kelly Brook has been spotted in LA looking pretty cosy with former Entourage star Jeremy Piven.

The pair have been seen at the New York native star's Malibu home and even stepped out together to attend a star-studded Halloween bash with Leonardo DiCaprio, Sasha Baron Cohen and Cindy Crawford.

While it's about time Kelly had a smile on her face – especially as it was not too long ago she found out that her boyfriend Danny Cipriani had been sending dirty messages to other women – perhaps she's not chosen the best man to move on with.

Jeremy Piven has a bit of a reputation as a Hollywood playboy, something which seems to have been confirmed by his former lover Sarah Tressler, who has told Kelly not to get involved with the 48-year-old ladies man.

Sarah went on to explain that while Jeremy acts like he wants to settle down, she thinks there's no way that the Mr Selfridge star would abandon his single lifestyle for the 33-year-old Celebrity Juice star.

She told The Sun: "Jeremy is absolutely not boyfriend material. He doesn't seem to be interested in having a girlfriend. He is approaching 50 and if he was going to get married he would done so by now.

"He has a lot of women to choose from and settling down is not on his agenda. He is having too much fun."

Film actor, TV presenter
born 26/07/1965
She also alleges that the award-winning actor – who won a Golden Globe and an Emmy for playing Ari Gold in Entourage – is a compulsive liar.

"Jeremy deservedly has awards for his work in Entourage, but he deserves an Oscar for his ability with women too. He is brilliant at picking up girls.

"He is very good looking, with a great body and is a very talented actor. That gives Jeremy this confidence, which makes it hard for anyone to deny him. It is impossible to say no to Jeremy.

"But his charm is just a facade. He has an edge, and has to restrain himself from being nasty, sarcastic and disparaging about people.

"It is like he thinks he is smarter than everyone else and he feels he can be condescending."

Sarah's warning came as just as Kelly's – and Jeremy's – spokespeople insisted that they are just "friends."

Although pictures of the pair would seem to imply that something romantic may be blossoming between the pair.

As well as rugby stars Danny Cipriani and Thom Evans, Kelly has previously dated actors Jason Statham and Billy Zane.

While Jeremy Piven has been linked to a whole host of famous ladies including former X Factor star Alexandra Burke, model Sophie Turner and Mad Men's January Jones, 35.

Do you think Kelly should be careful dating Jeremy Piven? Tweet us @SofeminineUK.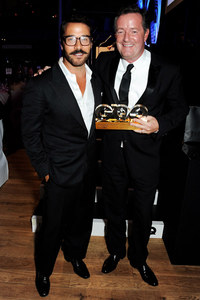 © Getty