The Wanted have suddenly called off their European tour, but haven't stated the reason. Let the speculation begin!

The boys – Nathan Sykes, Siva Kaneswaran, Jay McGuiness, Tom Parker and Max George – posted that they were "gutted" on the official The Wanted Twitter page, claiming the cancellations are due to: "Unforeseeable changes in our scheduling." Hmm.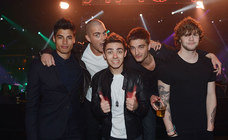 © Getty
The Wanted
This news comes just a few days after Max had to jet back to England on urgent family business during the boys' US tour, when the boys tweeted: "To let all our #TWFanmily know, @MaxTheWanted headed home to attend some family matters & won't be with us for the rest of the trip.

"We will crack on as a 4-piece so we look forward to seeing you all in Charlotte, Montreal, Buffalo, Green Bay & Chicago. Thanks all for understanding. Send positive thoughts @MaxTheWanted's way."

We're not sure what's happening with poor old Max, but it doesn't sound good, especially as Tom tweeted: "Sending my love to @MaxTheWanted Be strong brother. We're here for you!!


x"

The remaining four boys were seen looking utterly miserable in Montreal in Canada following his departure. Could Max's departure from the band be the issue? They can manage without him!

​Well…aside from the fact that he is totally the eye candy, they can still make music! The fabulous, perfectly harmonised music!

The full statement said: "To all our fans in mainland Europe, we're really sorry but due to some unforeseeable changes in our scheduling, we're having to cancel our European tour dates in February/March.

"Rest assured all tickets are refundable, and we do hope to see you again really soon! The UK, Ireland & US legs of the tour are not affected. Thanks for your ongoing support. Love of love, The Wanted xx."

Maybe the real reason they are looking miserable is that they can hear the sound of thousands and thousands of tickets being refunded?

The boys laid their disappointment on thick on Twitter, as they also wrote: "We're really sorry guys and totally gutted the European dates had to be cancelled. UK, Ireland & US are still on. It is out of our hands x."

It must be hard disappointing thousands of fans to be fair. Justin Bieber seems to have gotten used to it though, maybe The Wanted lads can too! KIDDING.

Apparently the tour in the UK and Ireland is still on though, are you going to see the boys? Tweet us @sofeminineUK