Miley Cyrus is known for her memorable performances, but this week's appearance on the X Factor was striking for all the wrong reasons.

The 20-year-old popstar took to the stage barefoot, unusually covered-up in a floor-length gold dress and bizarre Chanel black turban.

Singing her most recent number one smash hit Wrecking Ball, Miley sat on a large fake sand dune and attempted to belt out the ballad, but her live vocals were patchy at best.

Allegedly X Factor bosses were keen for the former Disney star to pre-record her slot, as they were worried about Miley doing something controversial (like smoke a joint on stage or twerk on the nearest male singer).

But they clearly had nothing to worry about as X Factor viewers took to Twitter to slam the rebellious young star's "boring" and "off-key" performance.

This Morning host Phillip Schofield joked: "Miley Cyrus opens the new #xfactor dry ski slope."

Some expressed shock that the usually risqué star was covered up – "baring nothing but her feet" and looking like Disney's "Aladdin crossed with a fortune teller" and "a giant Ferrero Rocher".

Meanwhile others were more scathing, writing: "Wow just seen @MileyCyrus performance on X-Factor. Terrible and painful."

Another said: "I think even I could sing Wrecking Ball better than Miley Cyrus just did."
It would seem that Miley's strange performance might be due to the fact that the We Can't Stop singer was feeling rather under the weather.

On Saturday she tweeted "Sicky" and then following her performance the usually party-loving star wrote: "Happy to get some rest. Time to go be sicky."

Clearly though the negative reviews of her performance had trickled down to her, as just two hours later Miley curtly tweeted: "Damned if you do damned if you don't."

It's not known whether she was referring to her off-key singing, or the fact that she was slated for a pretty boring performance when many have come to expect headline grabbing behaviour from the young star.

But it's obvious that Miley didn't appreciate her X Factor appearance being so negatively received.

Although the powers that be wanted her off stage as quickly as possible after her performance, the singer managed to briefly plug her upcoming European tour with host Dermot O'Leary.

Miley said: I will be here next year in the spring on my Bangerz tour…I will be here for a very long time so I'm looking forward to seeing you here next year."

Hopefully her voice will be back on form in time for her 2014 return.

Did you catch Miley's performance? What do you think? Tweet us @SofeminineUK.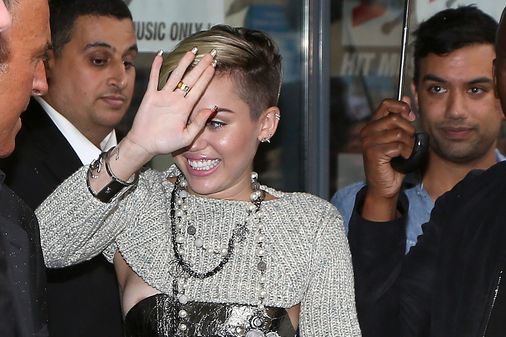 © Getty
Miley Cyrus