Miley Cyrus and Liam Hemsworth confirmed their split just a few days ago but that's not stopped him getting up close and personal with someone else.

There was serious speculation that the couple had gone their separate ways months ago and, unless Liam's pretty cold, this makes that seem rather likely.

The actor was spotted at a VIP club in Las Vegas spending a lot of time with leggy Mexican beauty Eiza Gonzalez.

The 23-year-olds were said to have been side by side all night, partying with a group of five of Liam's mates and some other beauties.

The pair started out at their VIP table but quickly moved on to a more private cabana.

At one point she was seen flashing her enviably long legs while sat on a sideboard as Liam stood close staring - impressively - into her eyes.

The MailOnline reports that the pair left the club together at 2am.
He has since been seen with the same girl on a different day.

E! Online has some exclusive shots of the two kissing passionately next to his car.

He was reportedly returning some luggage to the Mexican actress.

Many believe that Miley's recent VMAs performance was the straw that broke the camel's back for their relationship.

There is also speculation that her recent single release - Wrecking Ball - is about her difficulties with actor Liam.

The 20-year-old singer has been moving further and further away from her Disney image over the past few years.

But it looks like her fiancé wasn't too happy with the dramatic transformation from the girl he met on The Last Song in 2010 to the thigh-high wearing, elfin-cropped twerker she is now.

Seems it was a lucky escape not tying the knot during their long engagement.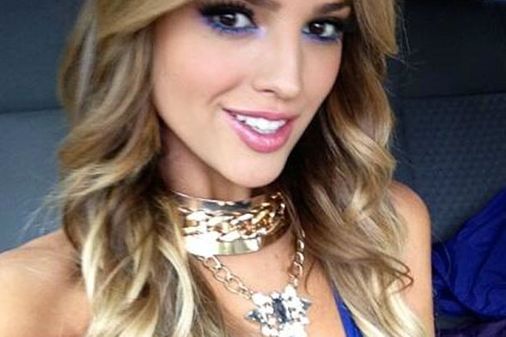 © Twitter
Eiza Gonzalez