Mixed martial arts is one of the most violent organised sports in modern day. There has been a slew of domestic violence accusations against members of MMA over the past few years, which some believe is hurting the integrity and sponsorship of the sport. There are all sorts of theories as to the direct correlation between violent sports and its competitors' propensity for violence outside the ring. It does make sense that violent people would be attracted to a violent sport.
So what happened with War Machine (formerly named Jon Koppenhaver) and ex girlfriend Christy Mack? Christy is an actress in the pornography industry and a nude model. She said she agreed to go out with War Machine after he pursued her relentlessly for months on Twitter. Christy testified that their relationship consisted of repeated sexual and physical abuse, including her staying in her house for days after being beaten by War Machine until the bruises went away.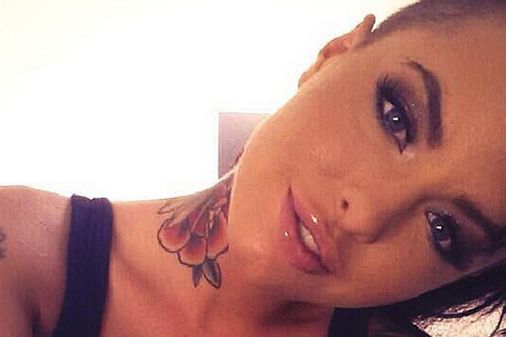 © We Heart It
On the night of August 8th things took a turn for the worst. War Machine reportedly ended things with Christy back in May; she said on the night of the 8th he came over to her house unannounced at 2am to find Christy with another male friend, Corey Thomas. War Machine insists the two were still on good terms and was allegedly planning to propose that evening, because who doesn't want their violent ex to invade their home at 2am and pop the question? Christy said War Machine immediately began beating her friend Corey, breaking his nose and dislocating his shoulder. Then he moved on to Christy, and that is when things got really bad (warning: graphic photos):
War Machine reportedly made Christy get undressed, shower in front of him, and then attempted to rape her although he was unable to get erect. He then proceeded to break 18 bones in her face by punching her repeatedly. He also broke her ribs and her teeth, and then ruptured her liver by kicking her. He held a kitchen knife to her neck and used it to cut off her hair. He then texted all of her close friends from her phone saying she was "going out of town" for a while so nobody would come looking for her if she went missing. Christy was only able to escape after he went into the kitchen to get a sharper knife, presumably to kill her. She escaped through the back door and knocked on neighbours' doors until one let her in.
War Machine proceeded to flee and was wanted on $10,000 reward. Before being captured, he tweeted these comments:
War Machine was later arrested on 32 charges, including, but not limited to: two counts of attempted murder, domestic violence, strangulation, assault and battery. While in prison, War Machine attempted to kill himself leaving the following suicide note:
"Finding what I found that night was devastating to me, more than you will ever know. not just the unfaithfulness, but the way u cared for him and protected him… Maybe I could have just laid on our bed and cried and you'd have held me… I still don't understand how I got into this mess. I don't know why this had to happen. My life was going so well. I forgive you, please forgive me."

"To die proudly when it is no longer possible to live proudly... Verily, I often laugh at the weaklings who think themselves good because they have no claws."
War Machine survived the suicide attempt and is now in the middle of his trial for the 32 counts. Check out the video of Christy's extremely scary 911 call and testimony. Note that the judge calls out War Machine for LAUGHING when Christy testified that there was repeated sexual assault in the relationship:
A letter written by War Machine was obtained by authorities where he states that he could have gotten away with killing Christy in Texas because of the "passion crime sh*t." Christy is slowly recovering from her injuries and has started working with Face Forward, a non profit that seeks to give medical care and reconstructive surgery to women and children who are victims of violent and disfiguring crimes: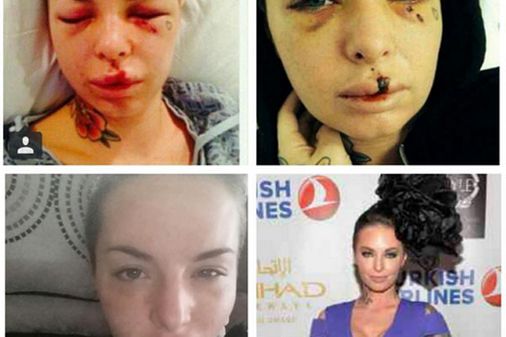 © Christy Mack Twitter
War Machine is set to be arraigned on November 20th and we hope that he gets the book thrown at him. Christy's tale of survival shows that no matter what industry you or your partner works in, it is NEVER okay to inflict violence on a partner. Just because you may be broken up, it does not mean that your abusive partner may be done with you, ALWAYS take necessary precautions and legal action when possible. We applaud Christy's brave decision to share the pictures and story of her abuse, as well as taking the stand against her abuser. We wish Christy and her beautiful face a speedy recovery.
Do you think think justice will be served for Christy and Corey? Tweet at us! @sofeminineUK!
This article was written by Dagney Pruner. Follow her on Twitter @dagneyp
You might also like:

All The Proof We Ever Needed That Drunk Girls Are Targets For Rape

Happiness Quotes: 100 Ways To Think Yourself Happy

Why Putting Yourself First Is The Best Thing You'll EVER Do