One Direction – Harry Styles, Niall Horan, Louis Tomlinson, Liam Payne and Zayn Malick – joined forces with Paul Rudd, Steve Carrell, David Koechner and Will Ferrell to become "Nine Direction".

The group gave a show-stopping performance together as the opening act on this weekend's Saturday Night Live, which was hosted by This Is 40 star Paul Rudd.

At first the stars of Anchorman 2: The Legend Continues weren't too impressed at being upstaged by the British heartthrobs.

"You've got your boy band, well I've brought my man band," Paul Rudd said as his Anchorman co-stars emerged from backstage.

In typical Ron Burgundy style, Will Ferrell brought the trash talk, telling the Story Of My Life singers: "Why don't you beat it Menudo."

But like most of us, the actors couldn't stay mad at the angel-faced pop idols for long, and soon Will Ferrell united everyone in a brilliant a cappella rendition of 'Afternoon Delight,' just like in the first Anchorman film.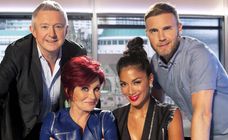 The epic performance brought on an ear-piercing round of applause from the over-excited audience, as Paul emphatically announced: "We are Nine Direction."

​That wasn't the only appearance the boys made that evening, as they also starred in a second sketch with Paul, who pretended to be Don Charles, a.k.a One Direction's #1 fan.

The Role Models star camped out with a gang of teenage girls to wait for a glimpse of the band, and the group of them sang 1D's hit Best Song Ever.

Paul joked: "Do I love One Direction? I don't know," adding, "Is Liam's favourite colour purple?"

The boys appeared to sign autographs and Liam asks him: "Oh you're a great dad, what's her name?"

To which the actor deadpans: "Her name is Dan Charles."

"That's a really pretty name," Harry exclaims, joining in on the act.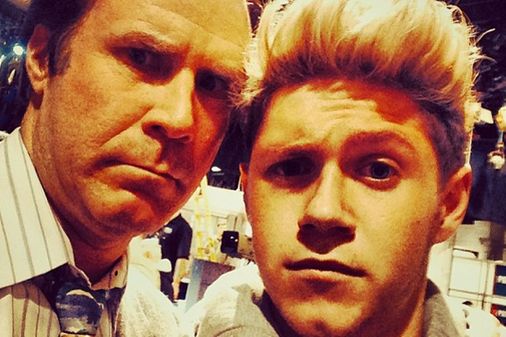 © Instagram
Niall Horan and Will Ferrell
Later on in the evening 1D performed two tracks from their latest hit album Midnight Memories, their chart-topping track Story of My Life and Through The Dark, which they debuted for the first time.

The boys clearly loved getting a chance to show off their comedy chops, with Harry posting on Twitter: "A massive thank you to @nbcsnl for having us back last night. It was a lot of fun. And now I fancy Paul Rudd."

Meanwhile Niall clearly spent all his time backstage getting various members of Anchorman 2 to pose with him for selfies.

Niall and Will Ferrell – who looks twice the height of the 20-year-old – pulled their best Ron Burgundy faces at the camera.

He also got a quick cuddle in with host Paul Rudd, captioning the snap: "What a super great guy! Pleasure to work with! Honour to meet! Will never forget tonight!"

We love Nine Direction! Hands up who wants them to record an album and go out on tour together?

What did you think of One Direction on SNL? Tweet us @sofeminineUK.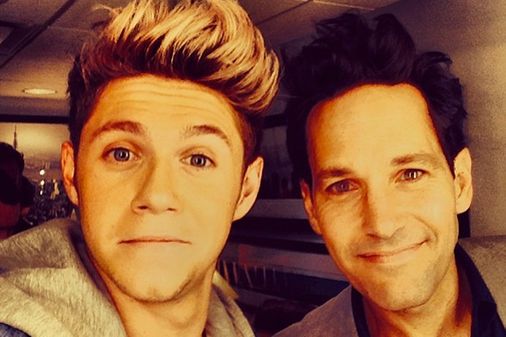 © Instagram
Niall Horan and Paul Rudd