One Direction's Louis Tomlinson and Harry Styles have supported Sam Callahan after he was eliminated from the X Factor last night.

The You Don't Know You're Beautiful singers posed in pictures with Sam backstage at the ITV studios, which Sam promptly tweeted. It's better than seeing photographs of him sobbing over lack of public votes whilst listening to Taylor Swift we suppose!

The One Direction boys were backstage to record the anniversary episode of the X Factor, which will see most of the winners return to the famous stage along with runner ups such as One Direction and Olly Murs who became successful despite not coming in first.

It might certainly be that One Direction's unprecedented success could be an inspiration to Sam, as they came in third place in the competition back in 2010 only to become one of the most popular boybands of all time, with an estimated personal combined wealth of £25 million.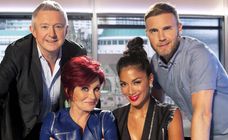 The 19-year-old hopeful certainly didn't let his exit from the competition dampen his spirits, as he tweeted: "YOU LOT MEAN THE ABSOLUTE WORLD TO ME.. ITS BEEN THE MOST AMAZIN RIDE AND IM PROUD YOU COULD BE A PART OF IT. THIS.. IS THE BEGINNING!!!"

He then mellowed out a little bit, tweeting: "Cheers… to the beginning of the most amazing adventure ever known to man! #CallfanArmy." Blimey Sam, more amazing than Christopher Columbus discovering America? Someone's a fan of the hyperbole!

One Direction's Niall Horan also tweeted about the X Factor this weekend, but about Miley's controversial performance rather than his favourite contestant.

Praising her singing, the Irish boybander tweeted: "Sick! @MileyCyrus was incredible tonight, what a voice."

At least Niall thought you were good Miley! A few tweeters begged to differ though!

Have you been watching the X Factor this year? Tweet is @Sofeminineuk

© Getty
Harry Styles