Uh oh. Katy Perry is in trouble with a whole host of people because of the music video for her latest hit single Roar.

While it's certainly been a hit with fans, People for the Ethical Treatment of Animals (PETA) and animal rights activists are furious over the use of animals outside of their natural habitat.

Roar features Katy crash landing into a jungle and channelling her inner Amazonian as she finds the inner strength to get to grips with life in the rainforest and the animals that live there.

While most of the video is CGI, they did film a real live elephant, as well as a tiger, monkeys and exotic birds.
PETA and animal rights activists have publicly slammed the Firework singer, claiming that the elephant that appeared in the video was "most likely bound and beaten," just so it could be used as one of her props.

To make Katy aware of the damage caused by using exotic animals as "props and for publicity stunts," PETA reportedly wrote Russell Brand's ex-wife a letter.

A PETA spokesperson told the NYDailyNews' Confidenti@l: "I don't imagine that Katy's mean, just distracted. Katy Perry may be one of the biggest pop stars in the world, but next to that sad elephant, she looks like a very small person."

The backlash has since escalated, with animal rights activist Chris Palmer also voicing his disgust at the I Kissed A Girl singer's antics.
Chris, the director of the Center for Environmental Filmmaking, has written an open letter addressed to Katy, further highlighting the plight of elephants used in the entertainment industry.

"Suzy is Katy's reluctant elephant co-star in the song's video. Elephants don't like loud noises, bright lights or hectic sets with dozens of people running around," the Oscar-nominee writes.

"How did Suzy, a member of a threatened species from Africa, find herself next to Katy Perry on a deafening California set?"

"She was violently captured from her free-roaming herd in Zimbabwe when she was two years old and shipped to the U.S., where she was most likely bound and beaten in order to make her perform without complaint."

So far there's been no word from Katy regarding the criticism, but the singer's fans don't seem to mind as Roar has spent several weeks at number one on the US Billboard charts and also in the UK.

Do you think Katy was wrong to use real live animals in the Video for Roar? Tweet us @SofeminineUK!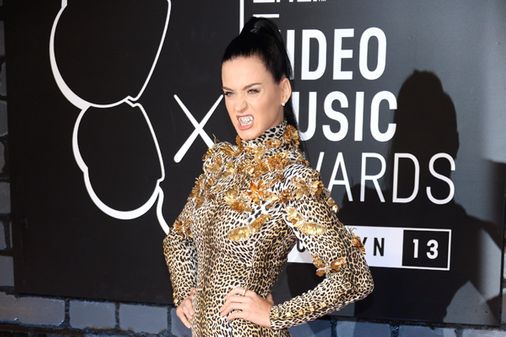 © Getty
Katy Perry