After a tough year, Peter Andre is excited about the future.

The reality star's girlfriend Emily MacDonagh is pregnant with their first child together - a fresh start for Pete after his brother Andrew died of kidney cancer last December.

Pete's already dad to Junior, eight, and six-year-old Princess, by his ex-wife Katie Price, but his experience with medical student Emily, 23, is going to be different.

Though Pete was present at Junior and Princess' births, they were delivered by Caesarean section.

He tells Now magazine: "I'm more positive now and I can't wait to be at the birth.

"It'll be my first experience of a natural birth. It's a bit difficult, but there's nothing more special than the birth of a child."

Pete, 40, recently announced he was quitting his reality television programme after Emily made it clear she didn't want to live her life in front of the camera.
It seems the Mysterious Girl singer also found it difficult to mourn the loss of his brother on TV.

He continued: "It was tough last year when you're right in the middle of it.

"Grieving publicly and privately was very difficult, but my brother Michael said to me: 'You don't get over it, you get on with it.'

"You just have to focus on something."

It's great that Pete can now concentrate his mind on the new baby, who will arrive next year.

He added: "Good things have happened since we lost Andrew, with raising money for Cancer Research and with Emily.

"Once you've lost something it's lost, but maybe this is like the circle of life. I'm very relaxed now."

Junior and Princess have just welcomed a new step-brother as Katie recently gave birth to baby Jett by her new husband Kieran Hayler.

But they can't wait for another addition to the family.

© Getty
Katie Price and Peter Andre
Pete said: "Everyone's excited about the new baby.

"Junior and Princess are hugely excited, but they haven't come up with a name. Well, not yet!"

Rumours have been circulating for months that Pete's ready to propose to Emily.

But he's keeping rather tight-lipped about his plans for marriage.

Pete said cryptically: "I'll let you know all in good time…"

We reckon the proposal could be any day now - especially as he cheekily laughed off the suggestion he might ask Emily to marry him in Zanzibar, where he first fell for the brunette beauty.

Despite their 17-year age difference, Pete and Emily have the support of her family.

Emily's father is Dr Ruaraidh MacDonagh, who Pete got to know before he dated the mum-to-be.

He said: "Our families are very close - we've known each other for three years.

"Her dad operated on my kidney stones and he did my dad's prostate, so we trust each other with our lives."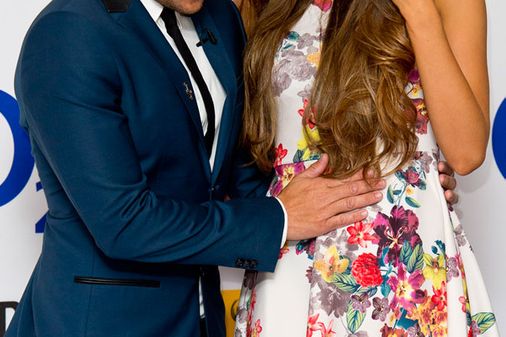 © Getty
Peter Andre and Emily MacDonagh