J.J. Abrams and crew have been tight-lipped about their Star Wars VII project so far, so fans have been dying to know what the story will be and, more importantly, who will be returning to the galaxy far, far away.
Though the cast has not been announced, Disney Studios chairman Alan Horn told the Hollywood Reporter that they have already started filming! Disney CEO Bob Iger has also confirmed one single character who will definitely be returning: our beloved robot R2-D2.
Lucky for us, more news keeps spilling every day, and we're getting closer and closer to hearing about the finalised cast. Though we all hope fan favourites like Yoda and Han Solo will make appearances in the new film, no news has been released as to whether any Star Wars alums will be signing on to the new project...until now.
7-foot-three-inch British actor Peter Mayhew, 69, who played Han Solo's lovable co-pilot Chewbacca in George Lucas' original films, has signed on to don the furry suit once more! Director and writer J.J. Abrams has sworn he wants to make a film that's as true to the originals as possible, and with this new addition, we are starting to believe him.
What other alums will be signing on? Here's who we hope will return for this new Star Wars installment.
Chewbacca
Fans rejoice! Roaring wookie Chewbacca will now definitely be back in action on the big screen come December 2015.
Luke, Leia and Han Solo
While Mark Hamill and Carrie Fisher may not have aged as gracefully as Harrison Ford, we still hope this trio will get some screen time. Especially Han!
Jabba the Hutt
We could do with NEVER seeing Jabba the Hutt ever again, and we're fairly sure Carrie Fisher wouldn't want to don that metal bikini again any time soon.
Wicket the Ewok
Somehow, someway, the showrunners need to bring this little Ewok back to the big screen! Yes, Warwick Davis has grown up, but the cuteness of this character must be shared again, please. Just look at him!
Lando Calrissian
Lando Calrissian is the epitome of the phrase "mad swagger"! He can pass some of his street-savvy smarts on to the next generation of rebels, and always look good doing it.
Anakin Skywalker, Yoda and Obi-Wan Kenobi
Yes, all these characters are technically dead, but that doesn't mean they can't pop by in holographic form and share a few words of wisdom!
Qui-Gon Jinn
Again, yes, he's dead. But who wouldn't want to see Liam Neeson with long hair, Jedi robes and a light saber again? Just one more time?
Yoda
Okay, we need a bit more than a holographic version of Yoda. What's a Star Wars movie without Yoda?? Frank Oz says he's down to pick up the puppet again!
The Millennium Falcon
The Millennium Falcon is so awesome, it's a character in its own right. Whoever this new flock of Jedi newbies is, they will still need a cool ride.
C-3PO and R2-D2
R2-D2 has already been confirmed for the upcoming movie, but what about the adorkable translator C-3PO? You can't have one without the other. It doesn't work that way. Nope.
Check Out These Star Wars VII Hopefuls!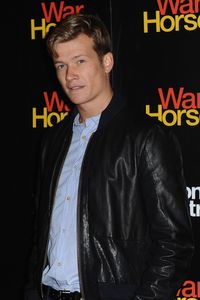 © Getty
No official leads have been announced for the upcoming film; but the rumour mill has been buzzing, and we like what we hear! Downton Abbey hunk Ed Speelers, Breaking Bad actor Jesse Plemons, and British actor John Boyega are all rumoured to be in talks for roles.
12 Years a Slave actress (and our total girl crush!) Lupita Nyong'o is also rumoured to be close to signing for a lead role in Star Wars VII (please please please).
As for a villain? Rumour has it none other than Girls actor Adam Driver is up to play the new Darth Vader-esque baddie.
Who would you like to see make a return in Star Wars VII? Any new actors you'd like to see take up a light saber? Tweet us @sofeminineUK!