Prince Harry was thrilled to announce that he would be taking part in a 208-mile trek to the South Pole as part of a race to raise money for Walking With The Wounded, of which he is patron.

The fourth in line to the throne would be leading a team of wounded British solders on the 16-day expedition, including former troops Captain Ibrar Ali, 36, who lost an arm in Iraq, and Major Kate Philp, 35, who lost a leg in an Afghanistan bomb attack.

Harry would be going up against British actor Dominic West who will be leading a second troupe from the Commonwealth, whilst True Blood star Alexander Skarsgard will be at the helm of a rival team from the US.

All those involved have been furiously training for the charity stunt for the past few months, keen to as prepared as possible for the gruelling 208-mile challenge in freezing conditions, which is set to take place on 13th November.

But poor Harry has reportedly had to seek medical attention after fracturing a bone in his foot just weeks before he's due to set off.
It's been reported that the 29-year-old has had to have x-rays to check that he is still fit to take part, although Buckingham Palace claims the expedition is "still very much on."

Keen not to let his team down, Harry has reportedly vowed to brave the gruelling Antarctic conditions regardless and is hoping that doctors can bandage his toe in time for the late November trek.

However broken toes cannot be treated or fixed and doctors recommend spending a few weeks or even a month resting in order for the bone to heal properly – which Harry certainly wouldn't get if he takes part in the race!

It would be a major blow to the Prince, who last month he spent a night in a walk-in freezer to prepare for -40C temperatures.

A Clarence House spokesman told the MailOnline: "Prince Harry has broken his toe in the last few weeks.

"He will not be revealing how it happened, it is a private matter. However, there is no doubt about the South Pole trek. He will definitely be going."

A source told The Sun: "Harry is battling against the clock. He is raring to start and doesn't even want to think about not taking part."
The three teams are getting ready to take on the South Pole Allied Challenge Expedition and are aiming to raising £2million to retrain injured servicemen.

It's Harry's second sub-zero expedition, after trekking to the North Pole with the same group in 2011.

But the adventure-loving Prince had to cut the previous expedition short because of his brother William's wedding.

During a documentary of the previous hike, called Harry's Heroes, he admitted: "These guys have been to hell and back and come out the other side.

"They are amazing, absolutely astonishing; the inspiration they give to everyone is unbelievable."

"I guess I have three different lives. One is my military life, one is my private life, one is the public stuff. But me as a military man is my number one favourite, because I get to spend time with people like this."

We hope he recovers soon and can take part in the race! Would you journey to South Pole like Harry? Tweet us @SofeminineUK.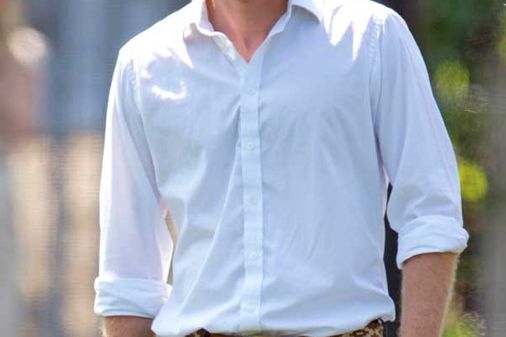 © Getty
Prince Harry