Hook
Williams played a Peter Pan who decided to grow up and forgot Neverland as a result, but when his children are kidnapped, he needs to remember all the magic of Neverland in order to get them back.
Aladdin
Click on the link to 'You Ain't Never Had A Friend Like Me' for the ultimate nostalgia trip. He was MADE for this role.
Jumanji
No one could have played the wild jungle man lost in a board game for 26 years quite like this guy!
Good Will Hunting
The performance that won him an Oscar, Robin plays a psychologist who hasn't moved on since the death of his wife.
Winning the Oscar for his role
Mrs Doubtfire
Mrs Doubtfire was about a recently divorced man who dresses up as a nanny to spend more time with his children and is possibly Robin's most loved role.
Comparing himself to Kim
Good Morning, Vietnam
Of course Robin Williams said the iconic line: "GOOOOOOOD MORNING VIETNAM!"
Flubber
Another iconic film from our childhoods that wouldn't have worked without the talent of Robin Williams.
Dressing up as a cheerleader in 1980
Dead Poets Society
"They believe they're destined for great things, just like you. Their eyes are full of hope, just like you. Did they wait until it was too late to make from their lives even one iota of what they were capable? "

…If you listen real close, you can hear them whisper their legacy to go. Go on, lean in. Do you hear it? Carpe. Carpe. Carpe Diem. Seize the day, boys. Make your lives extraordinary."
Celebrities have flocked to Twitter to pay their respects to the larger-than-life actor.
We think Evan Rachel Wood said it best.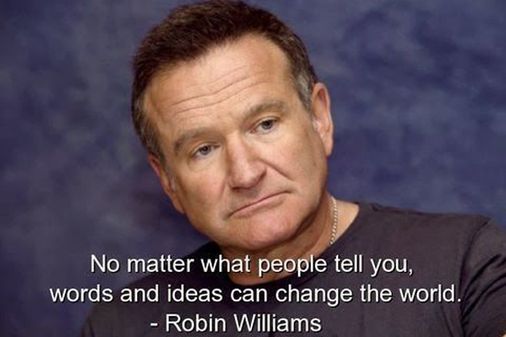 Robin Williams
Have we missed your favourite Robin Williams moment? Tweet us @sofeminineUK