Another Hollywood couple has decided to call it quits. Robin Thicke and Paula Patton have decided to end their 9-year marriage.

In an exclusive statement to PEOPLE magazine, the couple says, "We will always love each other and be best friends, however, we have mutually decided to separate at this time."

The two first met as teenagers in high school, when Robin Thicke was only 14. They were married in 2005 and now have a 3 ½ year old son, Julian Fuego.

Robin Thicke has often been very vocal about his love for his actress wife. In the September issue of Prestige magazine, he said, "I don't know if I would still be alive in some ways if it wasn't for Paula. She's been my rock, my muse, my inspiration, and I love her."
Despite their public declarations of love, the past year must have been hard on their relationship. Robin Thicke's controversial music video for hit song "Blurred Lines," caused quite a stir among feminist groups, and many thought it must have upset his wife. She says it did quite the opposite.

"I watched that video and I was a little bit jealous and then I wanted to jump his bones," she says. "I was like, 'I want to take you down right now.' That's how I know it's a hit."

Then came the infamous Miley Cyrus twerking VMA performance with Robin Thicke. Viewers were understandably shocked by the performance, but Paula seemed to be proud of her hubby.

"It's just so funny," Paula said during a sit-down with E! News last September, "because when I saw him perform I was like, 'You guys killed it!' We hugged each other, we went out, celebrated. The next day, my cell phone [has] all these texts: 'Praying for you.' 'If you need to talk, I'm here.'"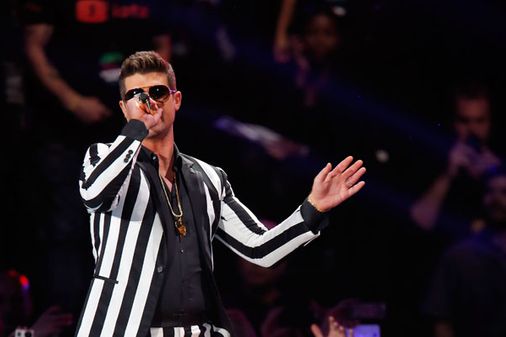 © Getty
Robin Thicke and Miley Cyrus
Since that performance, paparazzi pictures and rumors have been surfaced of Robin Thicke getting close to women other than his wife. Just days after the VMAs, a photo went viral of Robin provocatively touching a blonde mystery woman at a VMA after party. Then, in January, the singer was spotted getting very cozy with an unidentified woman in Paris.

Robin and Paula made their last public appearance together at the Grammy Awards, on January 26th, and seemed just as in love as ever with their usual red carpet PDA. Just a month later, the news of their separation comes as a bit of a shock to fans, but the two promise in their statement to remain close friends.

Did you see this breakup coming? Tweet us @sofeminineUK.