The Modern Family actress is the sexiest funny woman on TV and the ultimate CoverGirl, but what we love most about Sofia is her body confident attitude. She has no shame in flaunting her best assets and who can blame her when she's got the body of a 20-something right?
The Colombian stunner, 41 enjoyed a family vacation in Mexico last month with fiancé, Nick Loeb, 38 and son, Manolo, 21.
Sofia and her hubby-to-be partied with friends and family over the holidays making a happy return to LAX on Wednesday, Jan. 7.
In recent months, she's been criticised by fans for her slimming physique, but with much relief, she still seems to be holding on to those voluptuous curves!
During her holiday she made sure to post a super sexy photo of herself on social media wearing a thong bikini. And wow, does she look amazing - it's no surprise the star is showcasing her slim figure.
"My son took that picture," the star said during an interview for Ryan Seacrest's KIIS FM show On Air With Ryan Seacrest.
She added: "And I'm like, 'Damn, I still look good! I'm going to post this one.' At this age, you don't take for granted a good picture."
Right she is! The fierce 40-something has been a fave in Hollywood never failing to top every list of 'sexiest women ever'.
Her businessman boyf popped the question in July last year and has since been slammed by tabloid reports suggesting he's cheated on Sofia.
Despite break-up rumours, Sofia dismisses the reports claiming they're headed for splitsville.
"I laugh all the time because what else can I do? I mean at least they're talking about me, no?
"I read the most absurd things, like one day I'm engaged, one day because I go to the gym without the ring then I'm not engaged and it's some horrible tragedy."
She continued: "Then the other day I'm getting married, then I'm giving birth."
The Colombian-born star is still going forward with her quirky wedding plans and hasn't given up hope to start a family with Nick. Last year she confirmed that she had her eggs frozen in anticipation of having children again someday.
And it hasn't been all roses for the star as she dealt with many adversities throughout her youth including her diagnosis of thyroid cancer (at just 28 years old) which many people don't know about.
"My doctor had told me, 'We have a small window.' I said, 'That's so rude!' I already have a kid, so I never thought I would need to do that," she told Cosmopolitan.

"But I will have to use a surrogate, because I had thyroid cancer and lots of radiation. I don't want to wait forever, but not yet, because I'm working like an animal."
We love celebs who are loud and proud of their curvy figures. Power to you Sofia!
What do you think her bootylicious bod? Tweet us @sofeminineUK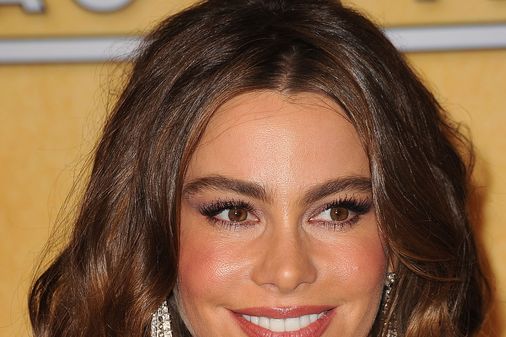 © Getty Images
Sofia Vergara