Despite reports that Harry Styles and Taylor Swift have been sending each other sexy texts for months and that Harry was going to help Taylor pick a place to live in London, the couple are said to not be getting back together.

The infamous Haylor lasted only 44 days, but took a lifetime of fan approval with them before breaking up way back in January.

However, yesterday it was claimed that the 19-year-old wanted Taylor back. Maybe he saw her Victoria's Secret performance?

An insider told HollywoodLife: "Harry has been sending Taylor sexy texts for months. Most of the time she just ignores him but she's lonely and she still has feelings for him so you can't really blame her for getting sucked back in. He's very persistent and very charming.

"She's talking to him again so it does seem like she's falling back under his spell."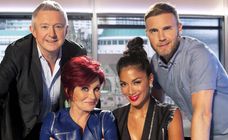 Well in her hit song 22 she does admit that she's feeling "happy, free, confused and lonely at the same time", and this definitely ticks two of those boxes!

It was also reported that the two were house hunting for the I Knew You Were Trouble singer in the Regent's Park area for when she comes to London to work, which is extremely close to Hazza's house.

A source said: "Harry has never really gotten over Taylor and thinks she's gorgeous.

"He is going to spend some serious time with her in the run up to Christmas and New Year."

We wish this was all true, but it looks like Taylor meant it when she sang We Are Never Ever Getting Back Together, as a source claimed: "I think somebody's just trying to stir something gossipy up before the AMAs."

Apparently it is true that the Love Story singer is looking for a house in the vicinity of Harry's London bachelor pad though, but the Hampstead area is meant for the rich and famous! Where else is she supposed to look?!
​Would you like them to hook back up? Tweet us @Sofeminineuk

© Getty
Harry Styles