The Made In Chelsea girls may be insanely rich, but it doesn't stop them from making some cheap jibes.

Pheobe Lettice Thimpson and Lucy Watson both seemed to relish their huge argument that saw the two of them exchanging insults basically about how irritating they found each other.

It's good that they got it all out of their system – especially because that meant we could enjoy it as well!

The argument was sparked earlier in the episode when Phoebe found out – inevitably – that Jamie and Lucy had been shacking up.
Although Jamie is best friends with Spencer, who in turn has already been out with, cheated on, dumped by and publicly slandered by Lucy, Spencer's reaction to the news wasn't nearly as angry as Phoebe's.

Spencer told his 'boi' Jamie: "Watson's devious and you're a bit of a sl*t so it was always going to happen. Your loyalty has been brought into question, but I'm not angry. Part of me thinks she's done that to p**s me off. I'm grateful for your honesty."

Aww Spencer, you're growing as a person! Does anyone else think Spencer is growing as a person?
Phoebe, on the other hand, didn't share the same mentality after receiving a call from Louise Thompson's brother with all the goss during a date with Jamie.

After initially seeming to find it funny, she later stormed at Jamie, saying: "Oh Jamie, so you and Lucy are f**king. Just because I won't jump into bed with you?

"You say you really like me but then you go and f**k Lucy, my arch enemy. Come on, that's pretty low."
Yes this is a world with arch enemies. Jamie tried to justify himself, reasoning: "It doesn't mean s**t. It happened once. I went to her house and nailed a bottle of vodka. I fancy you a lot. Lucy and I can't happen, she went out with my best mate."

However this didn't appear to placate Phoebe as the two girls came face-to-face at Victoria's Bollywood themed birthday party.

Confronting Lucy over her rendezvous with Jamie, Phoebe said: "What happened between you and Jamie? That's pretty s****y."

Lucy responded on top bitchy form declaring: "You are literally the most unpleasant girl I've ever met. You don't know anything about me. I would never judge you like that."
Then she promptly judged Phoebe's admittedly ridiculous jewellery, saying: "your nose ring looks really weird".

The fashion stylist shot back: "Your dress looks tacky." Good comeback Phoebs.

Are you Team Phoebe or Team Lucy? Tweet us @SofeminineUK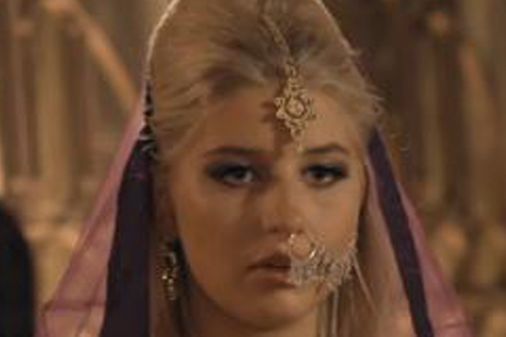 © ITV Pictures
Phoebe Lettice Thompson