This is it people! We are so close to finding out how Sherlock (Benedict Cumberbatch) survived the fall off the roof – so very close, that the BBC has released the synopsis for the first episode, which will be entitled "The Empty Hearse". Shiver!

The hugely popular drama, which ended on a cliffhanger during the season finale almost two years ago, saw Sherlock apparently return from the grave after we had seen his dead body on the pavement, leaving his best friend John Watson (Martin Freeman) traumatised and grief-stricken. Good friend there Sherlock. Solid.

The synopsis hints at John Watson's recovery process, as well as the threat that will force Sherlock to re-emerge.

​Here it is, in all of its glory:

"In episode one of this new series, two years after the devastating effects of The Reichenbach Fall, Dr John Watson has got on with his life. New horizons, romance and a comforting domestic future beckon."
"But, with London under threat of a huge terrorist attack, Sherlock Holmes is about to rise from the grave with all the theatricality that comes so naturally to him. It's what his best friend wanted more than anything, but for John Watson it might well be a case of 'be careful what you wish for'!"

"If Sherlock thinks everything will be just as he left it though, he's in for a very big surprise."

Do you think the revelation Sherlock wasn't expecting was that John has grown a moustache? Or, much more likely, that he has a fiancée? It's already been confirmed that Amanda Abbington (Martin Freeman's wife in real life) will be playing Mary, John's love interest.

According to Amanda, people are bound to dislike Mary for getting in the way of our favourite crime fighting duo.

​She told The Scotsman: "They do have this beautiful relationship, so getting in between that – which is what Mary does, she becomes this kind of third wheel – was scary.

"Also, the fans love these two together, so I'm sure Mary won't be particularly liked by them, but I hope that on the whole people really like her, because she's a great character and she has some fantastic secrets."

Oh blimey, we don't think the show needs any more secrets!

Are you excited about the new season? Tweet us @Sofeminineuk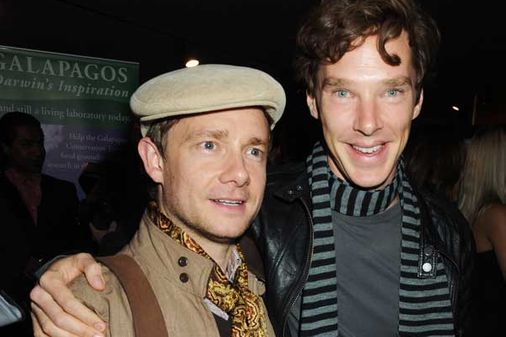 © Getty
Martin Freeman and Benedict Cumberbatch