A picture has emerged revealing Niall Horan taking it easy while Harry Styles pounds the ground running next to the Irish star cruising on a Segway.

The snap was originally tweeted by their personal trainer Mark Jarvis with the caption "@Harry_Styles C.V day, @NiallOfficial rest day!


".

Niall retweeted the pic with the response: "love rest day".

The boys trainer has tweeted a fair few snaps of the boys exercising in the extreme US heat - don't worry Niall's not been slacking too much!

Hazza's rocking his favourite white shorts in most of the pictures as you can see him working on his bod and his tan.

Mark tweeted a photograph of Harry running up stairs in the blistering heat with the caption: "Great work by @Harry_Styles today. Tremendous effort on stair climbs in mega heat!"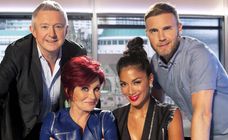 The boys have been struggling with the weather across the pond - good news for their fans given they just keep forgetting to wear a t-shirt!

Niall has also been photographed desperately trying to get cool with a giant fan.

He also tweeted: "34 degrees out! And about 90 % humidity ! The heat is chronic!"

Adding: "yes @lionsofficial ! champs! If it wasnt so warm out I'd be wearing my lions shirt! #InBODWeTrust", after the British Lions won their tour of Australia.

Meanwhile Niall's relationship with model Zoe Whelan is apparently not so hot.
An insider told The Mirror: "It is all over for Niall and Zoe and it is completely because of his side of things.

"Obviously, it was always going to be hard to have an on-going relationship when his job has him travelling around so much.

"But there's been no push from Niall to keep things going at all and has told Zoe it is over by completely blanking her."

It doesn't sound like the pair will stay friends, they went on: "Over the past few weeks her modelling career has become huge, but Niall hasn't been in contact to say well done.

"She hasn't even had a text from him, let alone a call, for nearly two weeks."

Who gets your vote - Harry or Niall topless? Tweet us @sofeminineUK

© Twitter
Niall Horan's 'rest day'